The St Helena Community College's (SHCC) Lifelong Learning Awards were celebrated on Wednesday 30 November 2016 (photos attached).  Presenting the awards were Councillor Dr Corinda Essex (GCSEs & Functional Skills), Mike Harper (NVQs) and Acting Director of Education & Employment, Wendy Benjamin (Apprenticeships).
Awards were presented to adult recipients for achievements in GCSE Maths and English, O'level Marine Science, Functional Skills Levels 1, 2, & Entry Level 3 in English, and Levels 1 & 2 in Maths. There was also a certificate awarded for the European Computer Driving Licence IT qualification.
City & Guilds NVQs were presented for Customer Service, Business & Administration, Professional Cookery, Hospitality Services, Health & Social Care, and Environmental Conservation. City & Guilds VRQs were awarded in Construction and Vehicle Maintenance.  An Assessor Award was also presented.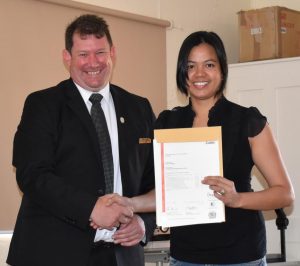 Recognition was given to individuals on completion of their apprenticeships, and Work Development Coordinator, Cynthia Bennett, congratulated all 10 Apprentices, for the hard work and commitment they had put into their achievements and for successfully completing their placements.
Special thanks were given to Solomon & Company (St Helena) Plc, A&Ds Mini Mart, Tourism Office, Isaacs Construction, St Helena Coffee Shop, Bank of St Helena, and the Sunflower Creche – all work-based training providers for the apprenticeships.
Acting Director of Education & Employment, Wendy Benjamin, welcomed all to the presentation and said:
"Today, we give recognition to our students and our Apprentices for their hard work over the year, or over their course of study. There are now on-Island, more opportunities for people to further their leaning and development, and I am proud to see that so many of you have taken advantage of these opportunities.
 "I would like to pay tribute to all staff of the newly named St Helena Community College, to the tutors, Assessors and the training providers, but mostly our awardees. Without these people, this day would not be possible. I would like to thank you all sincerely, for all your hard work and commitment to helping our awardees to achieve, and for making these opportunities available.
 "Congratulations to you all."
Councillor Essex concluded:
"Days like today are the real days for celebration. These presentation days are always for me, the highlight of every school year. People are receiving the recognition they deserve for the months and sometimes years of hard study and commitment.
 "I know that getting back into 'learning mode' can be a real struggle, so a very special congratulations from me to those of you who are in that category. Now that you are in the swing of things again, carry on, and go as far as you can and achieve as much as you can."     
 SHG                                                                                                                                 
6 December 2016