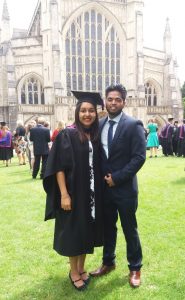 Post-School Scholarship student, Sasha Bargo of Half Tree Hollow, has recently graduated with a Bachelor of Science Degree in Ecology & Conservation Management, from Portsmouth University, after three years of study in Sparsholt College, in the UK (photo attached).
Studying for her Degree in Ecology & Conservation Management provided Sasha with a practical understanding of Project & Site Management, Ecology Consultancy, Global Bio Diversity & Conservation Issues, and Landscape Ecology & GIS.
As part of the final year thesis, Sasha completed an investigation into habitat suitability of the Duke of Burgundy Butterfly.
Sasha said:
"I am very happy to have completed my Degree. It has provided me with essential skills and knowledge to pursue a career in ecology. This would not have been possible without the support of my parents, Marilyn and Colin Bargo, and my partner, Dylan Stevens. Many thanks for your continued support.  
"I am now looking forward to my career with the National Trust, where I will further develop my skills and knowledge as an Invertebrate Survey Project Officer." 
SHG                                                                                                                                   
3 October 2016