WHITE GATE TO WATER COURSE ROAD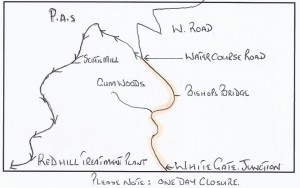 The Roads Section would like to advise the public that the road from White Gate to Water Course Road will be closed on Wednesday 4 May from 8.30am to 4pm. This closure is to enable the Roads Section to carry out reconstruction and resurfacing work.
Road closure and diversion signs (see attached diversion route) will be in place and, as normal, only Emergency vehicles will be granted access.
The Roads Section would like to thank the public in advance for their continued cooperation.
SHG                                                                                                                                     
29 April 2016