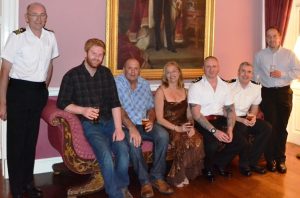 The Royal Fleet Auxiliary ship (RFA) Gold Rover arrived at St Helena on Friday 20 May 2016, in time for the crew to enjoy the St Helena's Day celebrations. The vessel spent ten days at the Island before departing James' Bay yesterday, Monday 30 May 2016.
RFA Gold Rover has visited St Helena on a number of occasions – her most recent call was in October 2015 to help mark the Bicentenary of Napoleon's arrival to St Helena.
During her visit this May, the Captain hosted a lunch and dinner on board for invited guests, as well as inviting local press, schoolchildren and members of the public onboard to tour the vessel.
On Monday 30 May 2016 the ship welcomed Governor Lisa Phillips and other invited guests for a trip around the Island, prior to the ship's departure. As part of this, the Captain and the Governor laid a wreath at the site of the RFA Darkdale.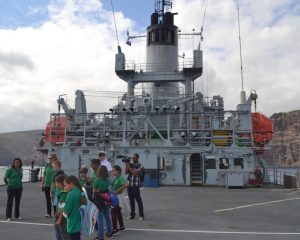 Governor Lisa Phillips commented:
"It was moving to remember the 41 men who died when the RFA Darkdale was sunk on 22 October 1941. The ship was going about her normal duties during the Second World War, refueling Royal Navy ships, when she was struck by four torpedoes from a German submarine.
 "As we sailed around the Island and the sun was beginning to set I was reminded of the war poem 'At the going down of the sun and in the morning, We will remember them."
 Governor Lisa Phillips also hosted a reception at Plantation House on Friday evening (27 May 2016) for crew members of the RFA Gold Rover.  Also in attendance at the reception were personnel from the Fire & Rescue Service, Sea Rescue Service, the St Helena Dive Club, Immigration, Customs, Shipping Agents and Dive Tour operators. The Governor described this group as the 'men and women who keep St Helena safe, both on land and sea'.  She also thanked Gold Rover's crew for their volunteering work during their stay. 
This was the RFA Gold Rover's final scheduled visit to St Helena.
SHG
1 June 2016