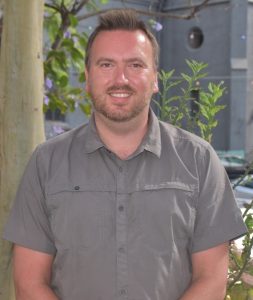 St Helena Police has recently welcomed to their Criminal Investigations Department (CID), new Detective Constable, Dave Cushway (photo attached). Dave took up his post on Wednesday, 7 December 2016, having arrived to the Island on an 18-month contract.
Dave's main role is to deal with any serious crime that occurs on St Helena, and to help safeguard the public. He also hopes to pass on some of his experience to local Officers.
Dave said:
"I've been pleased to see the team spirit within the Police Service – there is a good relationship between local officers and contracted officers from overseas."
Dave has always been interested in a policing career. He joined the UK police in Norfolk in 2004 and has been a detective for the last six years. His roles have mainly been in CID, serious crime, and most recently in domestic abuse and safeguarding.
Dave added:
"I came to St Helena to experience a different way of life and work outside of the UK. St Helena is such a beautiful place. So far I have really enjoyed it, and am looking forward to seeing more of the Island and meeting lots of new people."
Chief of Police, Trevor Botting, concluded:
"I am delighted to have a detective with Dave's experience join the team. Safeguarding children and vulnerable adults remains a high priority for the Police, and Dave will play a key role in working with victims and investigating allegations of abuse."
SHG                                                                                                                              
12 December 2016