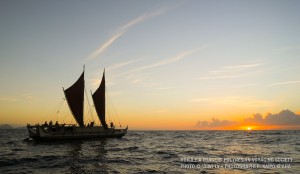 A traditional Polynesian voyaging canoe that is in the middle of its round-the-world journey set sail from Cape Town (on Thursday 24 December 2015), bound for Brazil on its first ever crossing of the Atlantic Ocean – and will call at St Helena  around Thursday 7 to Saturday 9 January 2015 – dependent upon weather and ocean conditions.
The double-hulled 'Hokulea' left its base at Honolulu, Hawaii, last year, and its crew members are sailing without modern navigation equipment – wayfinding by using natural resources like ocean swells, the stars and the wind – the same way that the crew's mariner ancestors would have done in the distant past.  Along their three-year epic circumnavigation of the globe, they are stopping to teach people in other countries                                                                                                     about traditional navigation, Hawaiian culture and caring for the ocean.
Since departing Hawaiian waters in May 2013, the Hokulea has voyaged some  45,000 miles and called at 11 countries and 46 ports.  Along the way, more than 160 volunteer crew members have helped to sail the canoe (currently accompanied by safety escort vessel Gershon II, sponsored by maritime group TMG), to spread the message of Mālama Honua (or Taking Care of Island Earth) by promoting sustainability and exchanging ideas with other countries.
Clyde Namuo, Chief Executive of the Polynesian Voyaging Society, said:
 "We have been humbled to receive a warm welcome on our worldwide voyage wherever we have gone and look forward with excitement to the next leg of our voyage to St Helena – and then on to South America."
Sean Burns, Acting Governor of St Helena, added:
 "It is an honour to welcome the Hokulea. She and her crew can be assured of a warm welcome on St Helena, as they prepare for the next stage of their adventure."
So far, the voyage has connected with communities in countries and ports across the South Pacific, the Tasman Sea and the Indian Ocean, including Samoa, New Zealand, Australia, Bali, Mauritius and South Africa.  Her full voyage will cover over 60,000 nautical miles, 100 ports, and 27 nations, with an estimated sail conclusion date of June 2017.
After a few days of provisioning and other preparations at St Helena, Hokulea will continue to voyage across the Atlantic Ocean and is expected to make landfall in South America at the coastal city of Natal, located in north-eastern Brazil, in late January.  Those interested in tracking the voyage can do so at: www.hokulea.com/track-the-voyage
Hokulea – meaning 'Star of Gladness' – is a traditional Hawaiian double-hulled voyaging canoe, which first set out on the Pacific Ocean in 1975. Since then, she has travelled to multiple countries across the globe, reawakening an Hawaiian cultural renaissance in the process through reviving the traditional art of wayfinding. The vessel is best known for her 1976 journey from Hawaii to Tahiti to show how early settlers could have spread across Polynesia tens of thousands of years ago.
Three photos accompany this release.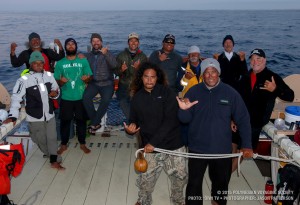 SHG
4 January 2016