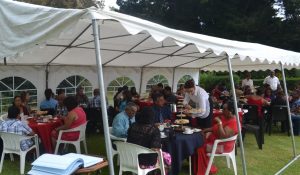 HE Governor Lisa Phillips hosted a Tea Party at Plantation House on Sunday 8 May 2016, for staff at the Community Care Complex (CCC) and their families – to celebrate their work and skill in looking after the vulnerable on St Helena.
Governor Phillips said:
"Caring for vulnerable people is a vocation in life and I was very happy to celebrate the contribution these special people have made to the community.
 "Additional volunteers are always needed to lend a hand at the CCC, the Hospital, Barn View, Ebony View, Cape Villa and SHAPE etc – I encourage everyone to get involved."
 This was the first of many tea parties which will be hosted by the Governor as a chance for her to get to know Island residents, listen to their views, and for guests to see for themselves what a beautiful place Plantation House is.
Following her tea parties on Sundays, the Governor will offer to her guests free tours of Plantation House and also a guided visit to view Jonathan the Tortoise.
SHG
10 May 2016