ST HELENA CRECHES AND CHILDMINDERS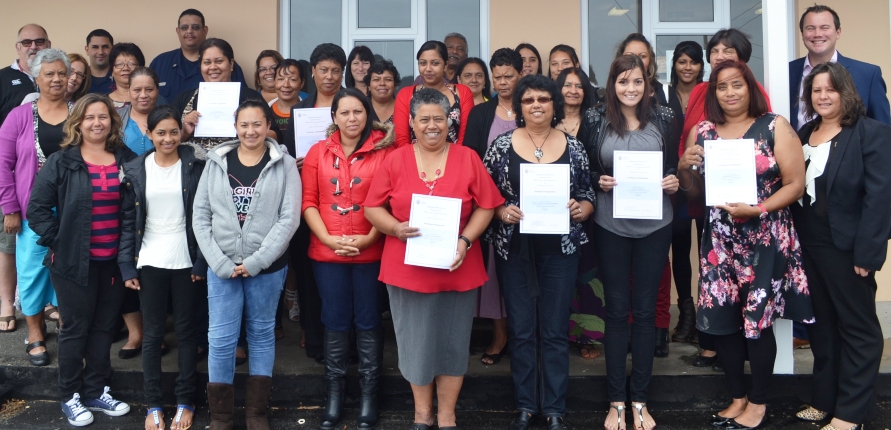 Registered St Helena crèches and childminders are valued for the important work they do in providing child care services on the Island and were recognised at a special presentation held at the Children's Services Centre (behind Ebony View) on Saturday 2 July 2016.
All crèches and childminders which successfully passed the necessary inspections required to renew their registrations were presented with their well-deserved certificates by Children's Champion Councillor Christine Scipio-O'dean (photo attached).
Speaking at the event, Acting Chairman of the Safeguarding Children Board, Paul McGinnety said:
"This is a great day for celebration. Everyone has worked really hard together and parents can now feel more happy, comfortable and confident about where they send their children every day.
"Credit is given to everyone who has taken part in this – Children's Services, colleagues from the Fire Service and Health Directorate, and all who so positively went through the process – it's a real sign of merit to be awarded these certificates. I think that parents will look at this and see you as leading the provision of quality early years services. Well done to you all for making our children safe."
Children's Champion, Councillor Christine Scipio O'Dean, echoed Paul's words and added:
"I'm pleased that all of you participated and that you've finally been valued for the vital work that you are doing for our youngsters. We're starting at the foundations so thank you and well done for being so dedicated and making sure that our children are safe and secure when not in their home."
All crèches and childminders had been inspected as recommended by last year's Wass Inquiry. Alongside this, the St Helena Fire & Rescue Service visited the same properties to ensure that fire & safety procedures were also in place.
SHG's Children's Services will continue to work very closely with crèches and childminders on St Helena, offering advice and support, as well as receiving feedback and suggestions to improve the service offered by both parties.
Concluding the event, Director of Safeguarding Mark Charters, said to all present:
"The inspections are not a policing process – instead, they ensure that you get the assistance, advice and support you need to start the important journey for our children.
"You are the beginning of that journey and what you do will pay dividends right through the rest of our children's journey in life. You are an incredibly important resource and I would like to thank the staff and everyone involved."
SHG
4 July 2016