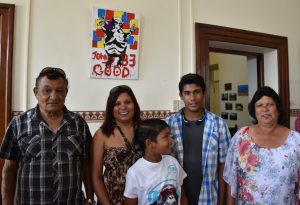 Prince Andrew School GCSE art students – Shelby Bargo, R-Jay Fuller, Keira Francis, Laura Duncan, Jean-Paul George and Mic Kail Harris – had the opportunity to showcase their artwork created for Governor Lisa Phillips' Office on Tuesday 25 October 2016
Attending the viewing were members of the students' families, teaching staff from Prince Andrew School, including Head Teacher, Penelope Bowers, Art Teacher, Lindsay McGinnety, and other invited guests. All were able to view the artwork on display.
Her Excellency Governor Lisa Phillips said:
"It was lovely to be able to showcase the students' artwork to their families. There is such a lot of talent on the Island and I am constantly amazed at it. One of my favourites is the canvas that states 'Life is Beautiful on St Helena' – I couldn't agree more.  I am happy to show off the artwork to anyone who would like to pop by my office."
 Parents as well as others in attendance were elated and proud. Parent, Wendy Fuller, commented:
"I feel pleased with my son's painting, it is a pleasure to be invited here, to see his and the other students' artwork and I think they have done very well."
 Members of Prince Andrew School teaching staff were also delighted to see, after much hard work, the students' displayed and finished pieces.
Head Teacher of Prince Andrew School, Penelope Bowers, said:
"I feel very proud of the students, they have worked very hard, I have watched them develop from the beginning to the end, and they have done really, really, well."
 Art Teacher, Lindsay McGinnety, concluded:
"I feel so happy, proud and ecstatic at how the students have taken everything on board and not been as shy as they sometimes are. I am happy to see they have invited their parents to see what they do, and have done. At their age nobody really thinks it's cool to bring their parents to see anything they have done and so I am really pleased they have. The big thing is that their parents can see how talented they are. Well done to all my students!"
 SHG                                                                                                                                
26 October 2016