Royal Navy Frigate HMS Lancaster and fuel tanker RFA Gold Rover, arrived at St Helena on Monday 12 October 2015 to take part in the bicentennial anniversary of Napoleon's arrival to the Island – exactly 200 years ago today, 15 October 2015.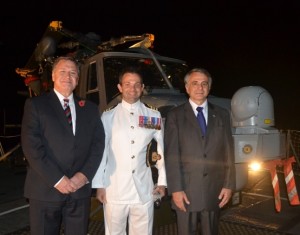 Since their arrival, the crews of both vessels have participated in various activities and bicentenary events and have enjoyed exploring the Island. Today, the Commanders of HMS Lancaster and RFA Gold Rover, accompanied by HE Governor Capes, French Ambassador Jean Mendelson and Prince d'Essling and ships' personnel conducted a ceremony at Napoleon's Tomb  to commemorate the funeral of Napoleon.
HMS Lancaster has also hosted various activities onboard, including a reception on Tuesday evening when invited guests were able to meet Royal Navy personnel and tour the vessel.
Speaking at the reception, HE Governor Capes welcomed Commander Laughton of HMS Lancaster and Commander Selby of RFA Gold Rover andtheir teams to St Helena.
Governor Capes said:
 "The silhouette of Royal Navy ships here in James' Bay is always a pleasing andreassuring sight to behold, and I have no doubt that the people of St Helena will forever welcome the Royal Navy to their Island. 
"I wish you and your crews an enjoyable few days with us in this very special week, as on 15 October, we mark the 200th anniversary of the arrival of perhaps our most reluctant visitor.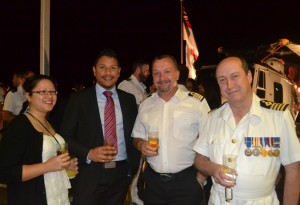 "The story of Napoleon's arrival and stay on St Helena is now firmly woven into the fabric of our history, an extraordinary episode creating for us today an important legacy for the Island, a prominent and valued feature of St Helena's rich and colourful story.  
"I am delighted that we have with us for this bicentennial week, and with us now on the Queen's Frigate, Ambassador Jean Mendelson representing the French Government and Prince d'Essling, President of the Napoleon Foundation, as well as other distinguished visitors from France.
"As we stand here this evening, if Napoleon and Governor Hudson-Lowe were watching us from on high, I wonder what they would be saying to each other.  
"On that intriguing note Commander, on behalf of the people of St Helena, our grateful thanks to you for your hospitality, and our thanks to Her Majesty's Royal Navy for its enduring commitment to the South Atlantic Overseas Territories."
HMS Lancaster continued its hospitality on Wednesday by hosting local media for an on board tour, followed by interviews with Lieutenant Commander James Thomson, Second In Command of HMS Lancaster. Also on Wednesday Primary School children and a French party were hosted on the ship.
Lt Cdr Thomson, who has been with HMS Lancaster for two years, commented:
"This is part of our nine month deployment, during which we carry out a number of different roles around the globe – part of which is reassurance to the UK Overseas Territories.
"Typically we have about 175-180 crew on board and when we deploy that rises to up to 210 additional personnel that we take with us as we work on ourdeployments.
"HMS Lancaster is traditionally an Anti-Submarine Warfare ship, one of the three roles we operate, along with Maritime Security and Defence Engagement and Reassurance."
HMS Lancaster also carries the advanced maritime attack helicopter, Wildcat, which many Island residents will have seen in flight, conducting reconnaissance and aerial footage of the Island before becoming (on Wednesday) the first ever rotary aircraft to land at St Helena Airport. The Wildcat will also be landing at Francis Plain on Friday morning to collect Governor Capes for a visit on board HMS Lancaster at sea.
Prior to her departure from St Helena on Friday morning HMS Lancaster will conduct a high speed 'Steam Past' across James' Bay to bid farewell to the Island.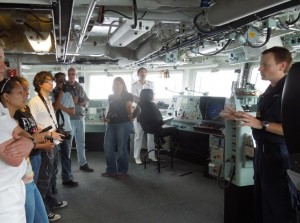 HMS Lancaster still has a busy eight-week program ahead, conducting engagement operations in West and North Africa, the Gulf of Guinea and Cape Verde Islands. The ship will then head back to the Mediterranean and Gibraltar before returning to the UK one week before Christmas.
HMS Lancaster's next major deployment will be in 2017.
SHG
15 October 2015