St Helena Government's Public Relations Office – part of Corporate Services – today becomes the SHG Press Office, under a succession plan devised by Chief Public Relations Officer Ian Jones.  Today's change sees all key positions in the newly-structured office being occupied by St Helenian officers, as follows:
Public Relations Officer Kerisha Stevens becomes Head of News
Public Relations Officer Kimberley Yon-Roberts becomes Senior Press Officer
And new recruit Roxanne Green is Press Officer
As part of this plan, Chief Public Relations Officer Ian Jones now becomes Communications Executive and will next year move into an advisory and project management role, with the local team taking charge of day to day Press Office operations during 2016.
Ian said:
"These changes bring SHG's external communications function into line with international norms – and are part of a planned and gradual process of professionalism and mentoring that will see a Saint-led Press Office next year. 
"I think these changes will be a real benefit for the Island in the future as we continue to improve the way Government communicates with its audiences on and off the Island.  It is also something that the local team can take great pride in."
The new structure is illustrated below: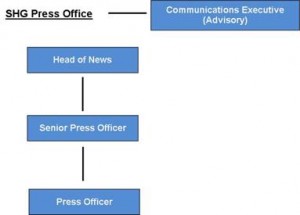 The Press Office team is responsible for all of SHG's external communications, including delivering news, answering media enquiries, managing SHG's social media presence on Facebook and Twitter, drafting & designing various material for publication, managing the SHG and Air Access websites, filming for local TV and webcasts and branding.
The team supports and advises the Governor, Chief Secretary, officials and Councillors on all communications and media matters – developing and implementing individual communications strategies and using a variety of channels and activities to share information and maintain strong relationships between SHG and all its audiences. This includes raising St Helena's profile internationally.
SHG
15 December 2015