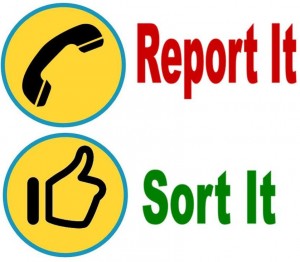 The Report It, Sort It initiative was mobilised with SHG employees on Friday 17 July 2015 and officially launched, Monday 20 July 2015.  This scheme allows members of the public to report minor faults – things like problems with street lamps, roads or waste disposal – to a dedicated SHG service and a dedicated officer.
Members of the public who have identified an issue with SHG services can report problems by:
Report It, Sort It was instigated by the Change Advisory Team, consisting of Chief Secretary Roy Burke, Assistant Chief Secretary, Paul McGinnety, Change Manager   Helen Standen, Senior Human Resources Development Officer John Patterson, Vince Thompson, Mike Olsson, Safeguarding Director Greg Hall, Education Director Shirley Wahler and Youth Representative Cody Thomas.
Helen said:
"This process is a new and simple way for members of the public to advise SHG of any faults that Government might not be aware of.  It allows Directorates to take action and also to gather data on recurrent issues – and to plan accordingly to reduce them in the future. 
"In terms of the process, all reports are dealt with anonymously, but I would encourage individuals to provide their contact details, as this speeds up the process and allows us to provide updates on progress." 
The Report It, Sort It proposal came as a result of feedback from constituency meetings held earlier this year and attended by the Chief Secretary.  A number of constituents reported some minor faults in services which had proved difficult to report and to rectify.
The result was the Report It, Sort It process, which gives members of the public a simple way of reporting a problem, with a single point of contact.
This system does not replace the Complaints Procedure, but is hoped that Report It, Sort It will be the first step towards solving small issues before they become a formal complaint.  The scheme relates only to SHG services and water and electricity faults should still be reported to Connect St Helena.
Report It, Sort It also does not replace emergency service numbers or the out of hours hotline.
SHG
21 July 2015