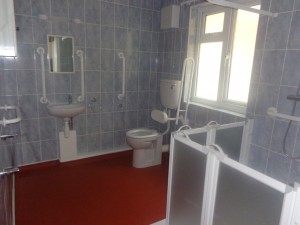 The Cape Villa complex of sheltered housing units, near Plantation Square, has recently been refurbished to provide seven improved one-bedroom self contained units which are fully wheelchair accessible. In addition to these improvement works an extra six one-bedroom units have also been constructed.
This refurbishment activity is being funded through the DFID Capital Programme and residents of the new units will benefit from the same on-site support and facilities as existing residents – extending the availability of supported accommodation on St Helena.  The new facilities include two larger units designed for two people to live together providing, for the first time, sheltered accommodation for couples in need of extra support.
The design work has been led by Paul Scipio at ProArc, who has also project-managed the works on site, which have been carried out by Ambledale who, after spending just over 12 months on site, have completed the work on time and on budget.
New occupants are soon expected to move into their new homes to join the existing five residents at Cape Villa.
Director of Safeguarding, Greg Hall, said:
"It's great to see what has been delivered at Cape Villa. The recent work here is a real achievement and something that people should take pride in."
Manager of Cape Villa, Loretta Clifford, added:
"The new units are coming along very nicely and have all the necessary facilities for those in need. Sheltered accommodation provides independence, but also support for people in the community who need it, and we welcome the changes taking place at Cape Villa.
"The work hasn't been too disruptive to the existing residents and they are delighted with the improvement work to their own homes."
Two photos are attached to this release.
SHG
14 April 2015