St Helenian student, Rebecca Lawrence of Half Tree Hollow (photo attached) has recently achieved a First Class (BVMedSci) Degree in Veterinary Medical Sciences at The University of Nottingham.
Rebecca's Degree lasted three years, but forms a part of her five-year veterinary qualification.  In order to qualify as a Veterinary Surgeon, Rebecca has to complete a further two years of study and clinical experience.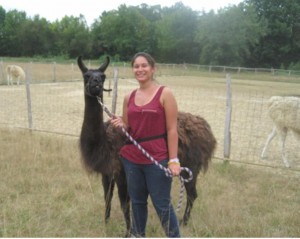 Over the last three years Rebecca has covered 'pre-clinical' aspects of veterinary science, including normal animal anatomy and physiology, husbandry and practical techniques. Rebecca's final year consisted of completing a dissertation, where she focused on the effects of essential oils on influenza virus infection.
Rebecca explained:
"I enjoyed this project a lot, it allowed me to work in an area I was very interested in, structure my own work routine, and take responsibility for producing results."
On the back of her dissertation, Rebecca has also been recognised for having the highest thesis marks in her Year Group.
Chief Secretary, Roy Burke, said:
"Rebecca has achieved something truly outstanding in a very demanding subject.   Our sincere congratulations and best wishes for the next phase of her programme." 
During her time in the UK, as part of the requirements for her course, Rebecca undertook work experience.  In years one and two she completed 12 weeks of Animal Husbandry EMS (Extra Mural Studies), which involved working on several farms including a sheep, dairy and pig farm, and horse yard.  She also spent three weeks in France studying animal behaviour with llamas.  In the next two years, Rebecca will complete the 26 week requirement of Clinical EMS in various veterinary practices, applying the knowledge and skills learnt in Vet School.
Rebecca commented:
"Thank you to everyone at home who have been very supportive up to this point, my friends and family in the UK, especially my sister Laura who has been invaluable during the last three years, the Commonwealth Scholarship Commission, whose scholarship enabled me to undertake this course; and to Mrs Kedell Worboys MBE and her Office."
After passing her third year, Rebecca immediately began her fourth year, with year five to begin in May 2016.
SHG
19 May 2015