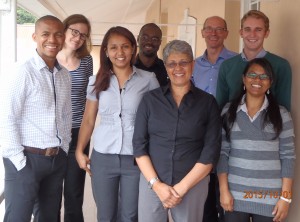 Liz March (commonly known as Vilma) retired from the St Helena Audit Service on Monday 12 October 2015 after completing 25 years of service with the Audit team and 44 years with St Helena Government.  Liz began her career in the Public Health Directorate in 1972, and then the Government Secretariat – before moving to the Audit Office in 1990.
Chief Auditor, Phil Sharman said:
"I had the pleasure of working with Liz during my first term on the Island in the 1990s and again in my current contract on St Helena as Chief Auditor.  The Chief Auditor holds a constitutional position with statutory responsibility for the external audit of the accounts of government and other public bodies and promoting good governance, stewardship and accountability across the sector.  As a Senior Auditor, Liz was a respected and experienced member of the audit team and has given loyal service to the Office of the Chief Auditor throughout the past 25 years."
Liz initially worked for the St Helena Audit Service as an Examiner of Accounts before being promoted to Senior Auditor.  In wishing her well in retirement, the audit team (pictured) invited Liz and her husband Vince March, to a dinner at Farm Lodge.
SHG
13 October 2015