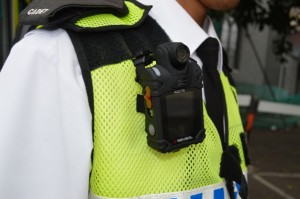 The St Helena Police Service will soon be patrolling wearing new 'body worn cameras' (photo attached). The cameras have been introduced following a recommendation in the Lucy Faithfull report from September 2013, and as their use are considered best practice across policing in other parts of the world. The use of the cameras have a number of potential benefits including a reduction in complaints against police, greater accountability of police activity and a rise in the number of guilty pleas at court through the availability of the camera footage as evidence.
The cameras record sound and vision and their use is supported by a guidance document. The cameras are not permanently switched on and the intention is not to record every conversation the Police Officer has with the public. The cameras will be turned on when Police Officers are deployed to incidents or when something happens spontaneously whilst they are on patrol.
Any footage obtained by Police Officers is either retained as evidence or automatically deleted after 30 days. The system the video footage is retained on is protected by password access and no officer will be able to view the footage without an operational reason. Routine checks will be made as to who is accessing the system and why.
Some consultation regarding the cameras has already taken place as part of their introduction to policing on the Island and, in addition, members of the public, media and Elected Members are invited to an 'open evening' where the cameras will be available for viewing and a demonstration of their use and storage will be available. The Chief of Police, Trevor Botting, and Sergeant Matt Breeze who has led their introduction will be available to discuss any concerns or answer any questions. The open evening will be held at Ogborn House on Tuesday 2 June from 5-8pm.
Chief of Police, Trevor Botting, commented:
"The introduction of body worn cameras will enhance what evidence can be gathered during an incident which is likely to lead to an increase in guilty pleas at court. This can save the courts time and increase the efficiency of the criminal justice system. In addition, the cameras will make the St Helena Police Service more accountable to our community as well as providing protection to my officers when dealing with public disorder or situations of conflict. I would encourage anyone with any questions or concerns about the use of the cameras to come along on the evening of 2 June and speak to Sergeant Breeze and I about the cameras and their use."
Trevor Botting, Chief of Police
26 May 2015