International Nurses Day was celebrated on St Helena today, Tuesday 12 May 2015, with an event held at the General Hospital, open to the public from 12noon.  International Nurses Day is celebrated around the world on the anniversary of Florence Nightingale's birth.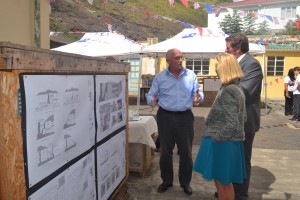 Hospital Nursing Officer, Lisa Rhodes explained the idea behind the event:
"I thought it would be a nice idea for the event to be held at the Hospital so those who worked here could also attend and display to the public our place of work.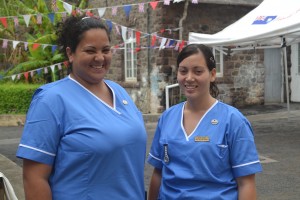 "Displays today focus on newly introduced uniforms, plans for the Hospital Development, opening of the Education Centre and information on Hospital and Community staff.  We also would like people to get involved in the scenarios we have set up around resuscitation procedures which one day could help save a life."  
Director of Health, David Jenkins opened the event and highlighted the importance of the new Post Graduate Education Centre, scheduled to open in a few weeks.  The Centre moves staff development in the right direction by improving on the competencies within the Health Directorate and in turn providing adequate facilities to meet them.
David said:
"This year we will see dramatic improvements made to the Hospital premises; these include the new operating theatre and diagnostic suite, with better health care provision for Saints."  
Councillor Derek Thomas concluded with thanks to the Director and Health Service staff for their commitment to driving the service in a positive direction, attracting more qualified staff and developing their training needs.
International Nurses Day recognises the contribution that Nurses make to society.  On St Helena it also highlighted the dedication of the Directorate and staff to improve competencies across the board of the healthcare profession.
Three pictures are attached.
SHG
12 May 2015