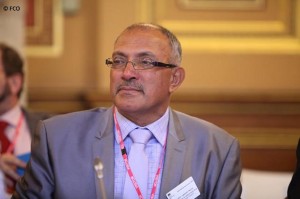 Councillor Lawson Henry recently returned to the Island having attended the annual Joint Ministerial Council (JMC) in London from 2-3 December 2014.
Councillor Henry represented St Helena, accompanied by HE Governor Capes and SHG UK Representative, Kedell Worboys MBE.
JMC Plenary Sessions focused on promoting economic development in the Overseas Territories as well as a wide range of topics – including security, policing and criminal justice, the environment, passports and border security, sustainable health services and pensions – all of which Councillor Henry found interesting and relevant to his role on St Helena.
During the two days of the JMC, Councillor Henry also attended the Annual General Meeting of the United Kingdom Overseas Territories Association (UKOTA). During this meeting, Ascension Island was accepted as a Member of UKOTA.
In meetings at the House of Commons Councillor Henry met with the Environment Audit Committee and with the Foreign Affairs Select Committee.
This was the second time Councillor Henry has attended a JMC. He commented:
"There are real benefits to attending meetings such as the JMC where we can showcase St Helena, network with other Territory leaders, share problems and learn how other Territories deal with particular issues.  There are so many areas of common interest and meeting British Ministers and officials face-to-face is very constructive." 
During this JMC, Councillor Henry noted that he gained particularly useful information from other OT leaders about their experience in the recruitment of British Doctors and also with the introduction of online visa systems.
Councillor Henry concluded:
"The JMC was an excellent experience. During the two meetings I had with FCO and DFID Ministers we covered a lot of issues – our achievements, post-Airport budgetary support, Airport certification, allocation of resources, infrastructure, hotel development, child protection, post-Airport access for Saints living on Ascension and the Falklands, rockfall protection and many other issues. This year Governor Capes attended both Ministerial bilateral meetings and was a great support to me in bringing his expertise to bear."
Two photos are attached to this release.
SHG
6 January 2015