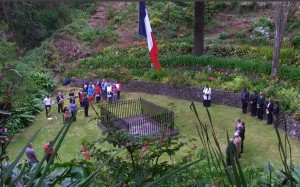 A Bicentennial Commemoration of Napoleon's exile to St Helena took place at Napoleon's Tomb on Sunday 11 October 2015 at 3pm (pictured).
Father Dale Bowers led the Commemoration with Prayers, followed by a one minute silence signalled by the playing of Aux Mort's by Pastor Graeme Beckett.
The UK and French National Anthems were then sung by choirs Bug Eye Tuners and Palm Villa Singers, accompanied by brass band Brass Monkeys.
The anthems were followed by the Laying of the Wreaths, led by His Excellency the Ambassador Jean Mendelson, representing the Minister of Foreign Affairs and International Development of the French Republic, His Excellency Governor Mark Capes, M. Victor-Andre Massena, Prince d'Essling and President of the Napoleon Foundation, M. Jean Etevenaux, Vice-President of the Souvenir Napoléonien and representatives from the Companions de l'Aigle.
Shelby Bargo, Jade Leo and Teeny Lucy drew the ceremony to a close with a musical recital on strings.
 This year (2015) commemorates 200 years since Napoleon's exile to St Helena.  He arrived at St Helena on 15 October 1815, after ten weeks at sea aboard HMS Northumberland.
SHG
12 October 2015