The Marine Conservation Section held a short presentation on Tuesday, 26 May 2015 at 12noon at the Canister in Jamestown, launching their newly published book 'Marine Life of St Helena'.
A short overview was given to various guests by the Head of Environmental Management Ben Sansom, on the origin of the book, followed by Marine Conservation Officer, Elizabeth Clingham extending a big 'thank you' to all those who made it possible for the book to be published.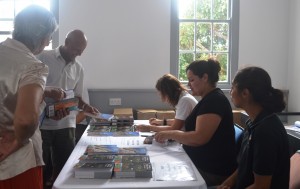 Elizabeth also read an email sent from author of 'Marine Life of St Helena', Dr. Judith Brown, who has recently completed her two year contract on-Island. She said:
"It was an absolute pleasure to spend two years on St Helena and explore the treasures that lie beneath the waves. Working alongside a fantastic group of people in the marine team as well as Islanders, divers and fishermen of the Island has made this book a possibility.  I hope this book provides everyone with an insight into the lives of the amazing marine animals and plants, and that the photographs highlight the beauty and uniqueness of this very special Island."
It has taken two years for the book 'Marine Life of St Helena' to be put together, and the design is similar to that of previous books launched by the St Helena National Trust, such as 'Flowering Plants and Ferns of St Helena', authored by Phil Lambdon.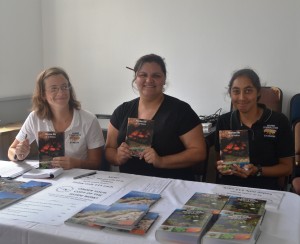 On this special occasion the book was being sold for £15, and within an hour 45 copies were sold. From today the book's retail price will be £15.50 and can be bought from the St Helena Nature Conservation Group in Jamestown.  Other retailers such as the Museum will also have copies to sell on-Island.
Elizabeth commented:
"I'm very excited about the launch of our book, and I'm very impressed with the final version.  My team are also very proud to be a part of this achievement. I think this book is the grand finale of all the marine awareness we have been doing over the years and this wouldn't have been possible without Judith.
"I think the book will be popular as it is targeted to a varied audience. The book also has beautiful and colourful photos of marine life which makes it even more attractive."
Two pictures are attached to this release.
SHG
27 May 2015