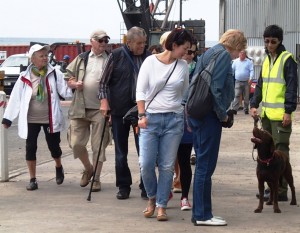 From Sunday 1 November 2015, the St Helena Biosecurity Team's work is being assisted by a four-legged recruit – biosecurity detector dog Harriet (photo attached). Harriet is a locally owned dog who has been trained by Paul Laban to detect honey and certain fruit items, and she will be using her superb sense of smell to sniff out concealed items in baggage and cargo.
Honey is one of the items most frequently smuggled into St Helena. But St Helena's bees are almost unique in the world in having no diseases – and we are keen to keep it this way. Honey is unprocessed, unlike jam and marmalade, and can harbour bacteria and fungus diseases. Island bananas are also free of diseases and it is therefore important to prevent the import of honey and bananas – to protect our local products.
Pest Control and Biosecurity Officer at ANRD, Jill Key, said:
"Having a trained detector dog is a big asset for the Biosecurity Team as it greatly extends our ability to detect concealed restricted items.  Harriet is the perfect dog for this – friendly and gentle, yet a very keen searcher."
Harriet's first day of work coincided with the arrival of the MS Amadea, where she proved a big attraction for the cruise ship passengers, who were pleased to meet her and take pictures.
Harriet is a young dog, and her training will continue and expand the range of items she can detect.
SHG
9 November 2015