Saturday 27 December 2014 saw the Governor's Cup Yacht race begin from Simon's Town, South Africa – seeing competitors face a fast start, as heavy sea swells and winds enabled them to push forward, with winds gusting up to 40kts.  Sea conditions have changed considerably throughout the race.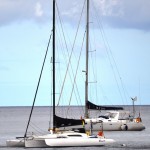 17 yachts entered the race, and this morning (at approx 01.53) saw the 31ft trimaran Banjo once again win First Line Honours, breaking the yacht's previous race record by sailing in after 9 days 13 hours and 36 seconds at sea.  Banjo was skippered this year by Kevin Webb, with crew Sarel van der Merwe and Brad Stemmett.
St Helenians Tommy Young and Kerry Furniss are doing well, with Tommy onboard the Vulcan and Kerry on the yacht Entheos, learning every day.
Julie George, a member of the organising committee on St Helena, said:
"The best part of the experience for me is bringing the yachts in at early hours and actually witnessing them cross the finishing line.
"It is a different format this year from previous years – as local businesses are more involved in planning events and activities for the competitors – ensuring that the private sector benefits from this great event."
On Banjo's tail and soon to be expected at St Helena are yachts Avanti 1, Black Cat and Strumpet.
A picture of Banjo is attached.
SHG
6 January 2015