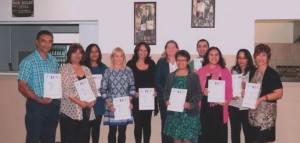 The evening of Wednesday, 24 June 2015 marked the celebration of members of the adult group learning French (photo attached) – as they received their certificates for this academic year. A mixture of beginners and intermediate students, have all done extremely well in their studies this year and were tested by French teacher, Alison Laycock – in the key skills of writing, reading and speaking.
Alison said:
"It has been a real pleasure teaching the adult group and especially to see them grow in confidence linguistically as they have all shown good ability in spoken and written French, as well as being able to complete reading comprehensions.
"It is a big undertaking to come to evening classes after a hard day's work and to learn something new, but they have done extremely well and through their humour and friendship they have made the classes very enjoyable to attend. Each one should be proud of their achievements and I look forward to teaching them again from September – when we will be aiming for a formal qualification in French."   
Student Cherie Dillon commented:
"I really look forward to Wednesday afternoons as the classes are good fun. I would thoroughly recommend the class to anyone who has an interest in learning French or just want to learn a new skill."
Linda Glanville added:
"I've always enjoyed a challenge and learning to speak French is certainly challenging – but I'm glad that I stuck with it and I'd encourage anyone to give it a go!  You never know what you're capable of until you try."
Patricia Williams concluded:
"I am very pleased with the progress that I have made so far alongside my busy job this year!  My ultimate aim is to be able to speak French fluently one day and to communicate with others in a conversation. I also want to be able to communicate with our pupils who are learning the language.
"We do learn in a fun atmosphere and would like to thank Alison for all that she does for us."
Director of Education &Employment, Shirley Wahler, congratulated all the members of the adult group on their hard work and achievement.  She has also noted that she has accepted Ms Laycock's invitation to join the group in September and is looking forward to the opportunity.
SHG
13 July 2015