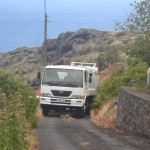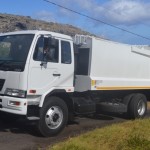 After a period to clarify legal issues, SHG is undertaking the test drive (three pictures are attached) to assess whether the additional 12cm will have any impact on the work of the refuse collectors.  It is anticipated that any impact will be minimal, especially as the bin lift equipment is itself narrow and high, but Public Health team members and ENRD staff have nevertheless taken the opportunity today to look at any potential problems and find solutions.  For example, on some tight bends, there may be opportunities to identify minor road works that would ease access not only for the refuse vehicles, but also for emergency vehicles and other road users.
The new refuse collection vehicles have a rear loading 12 cubic metre rubbish compactor and each is fitted with a high level bin lifter.  This mechanical bin lifter aids the emptying of a range of standard wheelie bins – and 1600 x 240 litre wheelie bins have also been procured for households.
The new trucks, along with the redevelopment of the Horse Point Landfill site, will result in significant improvements in the management of solid waste and environmental health on St Helena.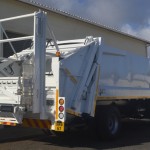 Once SHG is satisfied that there are no operational issues, it will take formal possession of the trucks.
SHG
3 June 2014