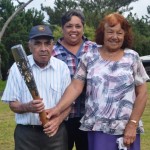 The Commonwealth Queen's Baton completes its busy schedule on St Helena today as it comes to the end of its visit.
Today's programme, organised by the National Amateur Sports Association St Helena (NASAS), saw the Baton visit Pilling Primary School, Plantation House to meet Jonathan the Tortoise, Cape Villa Sheltered Accommodation, Prince Andrew School and the General Hospital – before a final walk through Jamestown.
Louise Martin CBE, Hon Secretary of the Glasgow Commonwealth Games Association, who is accompanying the Baton, said:
"Words really can't describe the reception we've had while on St Helena, it's been second to none and more importantly for us it's the community spirit that's here. This is one place that has actually shown what we want to do – take the Baton to the communities and let everyone, see it, feel it and touch it.
"I can't believe what we're seeing on St Helena, it's absolutely fantastic. All I can say to everybody is thank you very much for everything you've done for us since we've been here and we'll be very sorry to leave."
The Queen's Baton and the Relay Team will depart St Helena this afternoon bound for its next stop at Ascension Island.
Seven photos are attached to this release.
SHG
21 February 2014