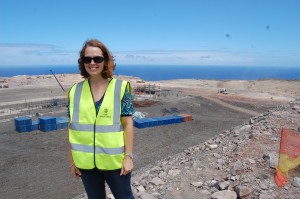 The Air Access Office has appointed a new Deputy Airport Project Director (Environment & Operations) from 27 February 2014.
Lauren Evans (photo attached) joins the Access team on a fixed contract until 31 March 2016, and her main role will be to facilitate the delivery of the Airport Project, with particular responsibility for the environmental aspects of the project to be delivered by St Helena Government.
 Lauren said:
"At present there is a lot of work on overseeing the construction phase, but my role will also include leading on the delivery of SHG's wider environmental responsibilities for certification of the Airport and the operational phase when it opens."
Lauren will work closely with SHG colleagues, including in the Environmental Management Division within the Environmental and Natural Resources Directorate. She will also liaise closely with the environmental leads in Halcrow's Project Management Unit, Basil Read, DfID and other environment interest groups.
Initially, Lauren's main focus will be on the planning and preparation of work programmes related to the environmental aspects of Airport certification and operations.
Lauren commented on her new role:
"Being involved in the Airport Project is very exciting.  There will be several challenges ahead, but being able to contribute to the success of the project in this role is the real motivation.
"One of the main challenges will be to deliver the really diverse aspects of the project effectively and on time.  There is a lot of work ahead but I think St Helena Government, supported by the Access Office, is in a strong position to do this." 
Lauren has worked for seven years for SGS (a global testing, inspection, audit and certification company) in various countries and in roles related to different aspects of environmental management.  In South Africa, she managed a department of auditors and consultants, and led on projects to audit environmental performance of companies including at large mining sites.  In the UK, Lauren worked as a consultant for environmental legislation, in Australia she managed an environmental laboratory, providing testing services and related technical advice. 
Lauren's work is supported by a Bachelor of Science degree, and she is also currently completing a Masters of Science in Sustainability Management.
SHG
7 February 2014