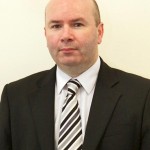 A new Chief Executive for Economic Development (CEED) has today been appointed.
Niall O'Keeffe (photo attached) succeeds Julian Morris and will arrive on-Island on Wednesday 23 July to take up his new position, as Head of Enterprise St Helena, on a three year contract.
As the CEED, Niall will work closely with the private sector, St Helena Government (SHG) and the Department for International Development (DfID) to bring about St Helena's economic transformation.
Niall's main purpose will be to deliver the Sustainable Economic Development Plan to maximise the advantages of the investment in air access, to deliver a shared vision for St Helena's future prosperity and to ensure the Island is ready for the Airport opening in early 2016.
Niall's remit will be to attract investment from Saint and international investors, promote tourism, fisheries development and to lead on major economic initiatives and support policy development. The CEED's duties, through Enterprise St Helena, are also to help Saint businesses grow, to up-skill Saints, and to oversee the provision of micro-grants, loans and equity finance for local Saint businesses.
Niall said of his appointment:
"I am delighted to be joining the team at ESH to help build and expand upon the positive work undertaken to date.
"I look forward to working with and for the people of St Helena to strive for sustainable and inclusive economic development. It is a privilege to take on the CEED role at such an exciting time in the history of St Helena and I hope to contribute to maximising the opportunities and minimising the risk associated with such change.
"On a personal level, I am very excited that I, along with my family, will have an opportunity to experience the culture and charms of such an extraordinary place."
Niall is currently the Chief Executive of NABCO, Ireland's National Association of Building Co-operatives.
SHG
23 May 2014