In a special reception held last evening (Thursday 2 October 2014), at Plantation House, His Excellency Governor and Mrs Capes paid tribute to the hard work of Darrin and Sharon Henry with the South Atlantic Media Services Ltd (SAMS).
With the support of a small but dedicated team, Darrin, the outgoing CEO of SAMS, launched the Sentinel newspaper on 29 March 2012. The SAMS website followed soon after on 1 April 2012 and on 13 February 2013 they launched their first hosted radio show on SAMS Radio 1.
Two years later Darrin steps down as CEO as he and Sharon move on to a new adventure.
In the presence of invited guests, including Councillors, Darrin and Sharon's family, the Sentinel team and SAMS Radio 1 voluntary presenters, Governor Capes spoke of Legislative Council's decision to establish SAMS Radio and The Sentinel  as 'unquestionably one of the most important and positive acts in the recent history of St Helena'.
Governor Capes said:
"Councillors recognised, rightly, that St Helena needed an objective, modern and sustainable media operation. It was clear that this would be especially important at a time of major change as the Island prepared for air access. 
"Darrin and Sharon Henry, two Saints and two of the best people you will meet anywhere, stepped up to the challenge. Over the past few years they have worked incredibly hard for St Helena.
"To say that they have succeeded in their work is an understatement. Through SAMS Radio and the Sentinel they have given Saints, here and around the globe, access to a quality news service that they can trust, a service that is professional, objective and dependable.  Along the way they motivated, trained and mentored many young Saints who helped to establish and run both the radio station and the newspaper. 
"I think you might agree that to develop a newspaper and a radio station from scratch would be a huge challenge for anyone. More than that, from the word 'go' Darrin insisted on setting and maintaining high standards.
"The result is a quality media operation of which St Helena can be proud.  A media operation with a strong community focus to give Saints, and all those with an interest in St Helena, an accurate and unbiased account of who and what makes this Island tick. 
"As many of you will know, apart from the huge challenge of setting up a new media operation, Darrin and Sharon had to contend with the efforts of a handful of sad people who sought to undermine their work. A handful of sad, gloomy people, unable to accept change. 
"Of course, as strong and confident Saints, Darrin and Sharon conducted themselves with dignity and were able to bat away the nasty jibes.
"As always, let's stay positive and hope that one day the sad ones will ditch their dark cloaks of doom and gloom to experience how much better life is with a positive attitude."
Governor Capes then went on to present Darrin and Sharon with a framed copy of the very first edition of the Sentinel newspaper.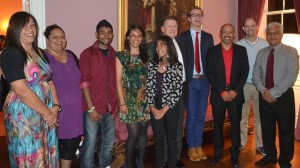 In his speech on the night Darrin recognised the challenges of running the Sentinel and setting up SAMS Radio 1, but reflected on the enthusiasm of the Sentinel team, the success of the service and the good memories that he and Sharon have from serving the community of St Helena to the best of their ability.
Two photos are attached to this release.
SHG
3 October 2014