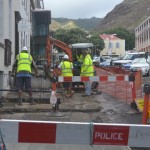 On 30 May 2014, works were announced to continue the Main Street Enhancement Project on pavement areas in lower Jamestown.  The project was awarded to Brian Leo, project managed by ProArc. 
The work has begun outside Porteous House, gradually moving upwards towards the Consulate Hotel, then working back down the street from the Post Office.  It is expected to take around 20 weeks to complete. 
The work is restorative in nature, aiming to stay true to the character of the town by preserving and replacing cobble stones wherever possible.  The insertion of cobbles between entrances along both sides of Main Street will provide a reference to the dominant historic feature of the street while allowing for a smoother, safer and more accommodating surface for use as the principal walkways.  The installation of bollards is designed to protect and preserve restored surfaces and to avoid vehicles parking in undesignated parking areas on top of the pavement. 
Funding for the Main Street Enhancement Project is provided under tourism development, aided in this particular case by SHG's capital programme.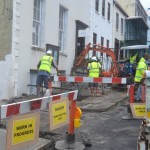 A Main Street Project Working Group has been established (see below) to assist the contractor and to ensure that historic features of the streetscape are maintained wherever possible.  Members of the working group are: Trevor Graham, Director of the Environment and Natural Resources Directorate, Jeremy Harris, Director of the National Trust, Lucy Ceaser, Director of the Museum, Cathy Ablerts, Director of Tourism (ESH), Michielle Yon, Director of Resources (ESH) and Paul Scipio of ProArc Ltd.  
Jeremy said:
"It is exciting to see rejuvenation of the Jamestown streetscape. Whilst a few compromises have been made by necessity, I am confident that the finished product will greatly enhance the look and feel of Jamestown and will serve the population well. The St Helena National Trust is proud to have been part of this and we also look forward to enhancing our prominent headquarters, in turn benefitting the local community and those visiting this very special town."
Michielle continued:
"The Main Street Working Group is committed to ensuring that the final outcome is something that all locals and visitors can admire.  If any person wants to raise their concerns or make enquires please feel free to contact anyone in the group."
The working group wishes to thank the general public in advance for their cooperation and patience during this work, which will inevitably cause some disruption.   
Two pictures and one illustration accompany this release.
Notes for Editors
Contact details for the Working Group are as follows:
 SHG
20 June 2014