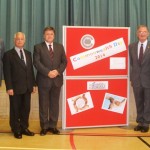 Today is Commonwealth Day. Celebrated annually on the second Monday in March, Commonwealth Day is an opportunity for member nations of the Commonwealth to promote understanding on global issues, international cooperation and the work of Commonwealth organisations.
The theme for 2014 is 'Team Commonwealth' – expressing the spirit, friendship and motivation towards the shared goals and values existing between the 53 Commonwealth member nations.
This year, Commonwealth Day on St Helena is being led by Legislative Council Members with the day's activities reflecting the theme of 'Teamwork'. The day's activities started with a special Commonwealth Assembly at each school attended by representatives of the St Helena Legislative Council.
At Prince Andrew School the assembly was attended by His Excellency Governor Capes and Head of the Governor's Office Sean Burns, Speaker Eric Benjamin, Councillors Lawson Henry and Nigel Dollery and Director of Education, Colin Moore (photo attached).
In his opening address Head Teacher Paul Starkie spoke about the 53 Commonwealth countries uniting under Her Majesty the Queen and coming together on shared goals and values. He spoke of the importance of this year's theme, 'Team Commonwealth', and how fitting it is for this year's Commonwealth Games in Glasgow and the journey of the Commonwealth Queen's Baton, which recently made its 40th stop at St Helena.
His Excellency Governor Capes read Her Majesty's Message to the Commonwealth and in his address remarked on an important point raised by Her Majesty the Queen, who said: "People of all ages from different cultures are weaving an ever-growing network of links which connect us in our diversity and our common purpose." Governor Capes spoke of how important this message was to St Helena and encouraged young people to value the diversity of their Island and to embrace St Helena's rich and colourful history and our place within an ever-growing multi-cultural world. Copies of Her Majesty the Queen's Message and Governor Capes' speech to Prince Andrew School students are attached to this release.
Councillor Nigel Dollery, speaking on behalf of Legislative Council, also remarked on teamwork, recollecting his experiences in the Military and working in Higher Education both of which required working together and supporting each other to achieve more.
Commonwealth Day continued with a group of 26 schoolchildren from the Primary and Prince Andrew Schools touring various sites around the Island showcasing teamwork. These included the Spruce Projects at Harford and St Paul's Primary Schools, work at the Millennium Forest, Bradley's Motor Cross track, the Airport site at Prosperous Bay Plain, and SHAPE Recycling Plant at Donkey Plain.
Video Conferences also took place between the St Helena Youth Parliament and the Welsh Youth Parliament, and between Councillors and the Commonwealth Parliamentary Association who visited the Island in August 2013.
In the UK, St Helena Government Representative Kedell Worboys will attend the Observance at the Westminster Abbey and students Chloe Terry and Sasha Bargo are representing  St Helena at the Commonwealth Day celebrations in London.
Governor Capes Commonwealth Speech – 10 March 2014
Her Majesty the Queens Message to the Commonwealth – 10 March 2014
SHG
10 March 2014