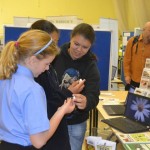 On Wednesday, 15 October 2014, St Helena's annual Careers Fair was held at Prince Andrew School from 10am-5pm.
More than 20 businesses took part in the Fair with stalls displaying posters, equipment, films, photography slideshows and products relevant to their business type.   Various demonstrations were conducted on the outside court area, including from Tommy, the Police Dog, Buzz, the Drugs dog, and hourly forestry/tractor demonstrations.
Guest speakers were on hand with topics covering Scholarships, Starting up a Business and Training in Languages, to name but a few.
The fair was opened by Work Development Coordinator, Cynthia Bennett:
"Simply this event is to inspire you to learn and to develop – to reach to the top so that you may achieve your goals and make your dreams a reality."
The day was also marked by the unveiling of the Education Directorate's new Lifelong Learning logo.  The logo represents the creation of the new Lifelong Learning Service picking up areas originally covered by AVES – apprenticeships and work development, training, distance learning and examinations, City and Guilds Centre, Public Library and childcare coordination.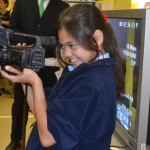 Kerry Yon, Assistant Director Lifelong Learning said:
"The Education and Employment Directorate has always aimed to provide learning opportunities for all ages and at all stages of life and recently, some restructuring took place within the Directorate to bring lifelong learning under one umbrella.
"To everyone here today, we are all learning each day.  Please take advantage of the opportunities on offer, talk to us, find out about the fields that interest you and remember that it is never too late to learn."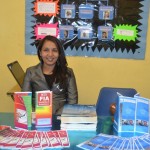 Careers showcased on the day were from Solomon & Company, Connect St Helena, Bank of St Helena Limited, South Atlantic Media Services, Enterprise St Helena, G – Unique, Dalco, ProArc, Essence, Bliss, George Bennett's Upholstery, SHAPE, Pat's Clutch & Brake Bonding Services, Penny Savers, St Helena National Trust, Environment & Natural Resources Directorate, Health and Social Services, Corporate Services, Police & Prison, Fire & Rescue, St Helena Audit Service and the Education and Employment Directorate.
Deputy Chairman of the Education Committee, Councillor Nigel Dollery encouraged those present to excel and be proactive in the job they are in, noting that dedication will pay of in the future.
Three pictures are attached with this release.
SHG
16 October 2014