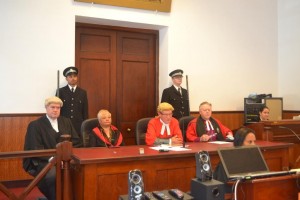 The formal opening of the St Helena Supreme Court took place yesterday at 10:30am. 
His Lordship, the Chief Justice, Charles Ekins Esq accompanied by his wife, entered the Courthouse along with invited guests which included Lawyers, the media, Government officials and members of the public.
Frank Wastell, Acting Attorney General, welcomed the Chief Justice and his wife on this ninth visit to St Helena.  The Acting Attorney General also acknowledged the attendance of several visiting skilled practitioners, and the return of Aldhelm Garner who has completed his professional studies in the United Kingdom and has now joined the Public Solicitor's Office.
This speech was followed by the Chief Justice, who praised the work of Attorney General Ken Baddon (currently off Island), wishing him well for the future with his approaching retirement. 
Noted during both speeches was the mention of the loss of two Lay Advocate positions on Island, and his Lordship thanked the work by Mr Bill Drabble and Mr Mikael Per Olsson before their resignations. 
It is expected that this Supreme Court will be the busiest and most demanding in recent years.  
Please see attached photographs accompanying this release.
SHG
1 November 2013