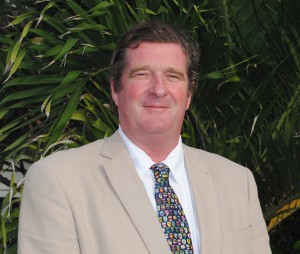 Sean Burns To Be Next Head Of Governor's Office
Mr Sean Burns, presently serving as the Administrator on Tristan da Cunha, has been appointed as the next Head of the Governor's Office and will take up the position in January 2014. The role has been upgraded and will carry additional responsibilities, including that of acting as Acting Governor in the Governor's absence, a change that follows the model used in the Falklands.
Governor Capes said:
'I have worked with Sean in his current role over the past 18 months and have been impressed by his excellent work on Tristan da Cunha. He will bring to the Governor's Office valuable skills and experience to help manage an increasing workload at this exciting period in St Helena's history. He will replace my colleague Clive McGill from whom he will inherit a modernised and well-functioning office with fine support provided by Sandra Sim, Manager of the Governor's Office and from Linda Glanville, PA to the Governor.'
Sean, who will be accompanied by his wife Marina, has served as the Administrator on Tristan for the last three years. Commenting on his new posting, Sean said:
'I am delighted to have been appointed Head of the Governor's Office from January 2014. Marina and I are both really looking forward to working and living on St Helena and getting to know the islanders and the Island. Although we have never visited, I have learned something about St Helena from my time as the Administrator on Tristan since 2010, and the exciting changes that are taking place.
'I have also yet to visit Ascension Island but I hope to make an early visit to meet with the Administrator and Councillors there.
'I joined the FCO in 1978 and have done a range of jobs, including corporate services, management, consular, immigration, project management and HR. My other postings have included Tanzania, Antigua, Bangladesh, Senegal, Kenya and South Korea as well as peiods back in London.
'My wife Marina is a qualified TEFL teacher and has spent the last 17 years teaching English and other subjects, mainly for the British Council. We have two children, Damian (21) and Kelly (23) who both hope to visit us at some point in the posting.'
SHG
28 June 2013