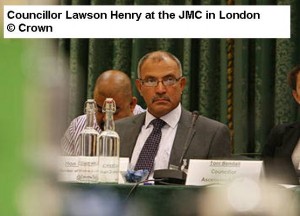 Councillor Lawson Henry and Assistant Financial Secretary, Dax Richards, this week represents St Helena at the annual Joint Ministerial Council (JMC) at the Foreign and Commonwealth Office (FCO) in London.
The JMC brings together political leaders from the Overseas Territories, and this year takes place between 26-28 November – hosted by FCO Minister for the Overseas Territories, Mark Simmonds MP.
Discussions this year focuses on promoting economic growth in the Territories and creating jobs. Other topics include Economic Diversification, Employment and Education, the Overseas Territories' Links with the Wider World, Green Energy and Environment and International Financial Services Regulation.
Commenting on his attendance at the Council, Councillor Henry said:"The first day of the JMC was a long but interesting session with all Territory leaders making a number of interventions in the subjects that were debated. I came away with the feeling that HMG do really want a partnership with all its Overseas Territories. I was supported by our very experienced UK Rep, Mrs Kedell Worboys MBE and Assistant Financial Secretary Dax Richards."
The Plenary of the JMC concluded on 26 November with the agreement of a Communiqué. This can be seen on the SHG website at: https://www.sainthelena.gov.sh/publications/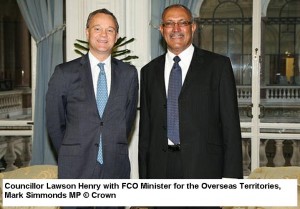 Discussions will continue at official level on Health, Environment, Passports and Visas and Criminal Justice. Councillor Henry will attend the meeting with the Environmental Audit Committee this afternoon. The JMC will conclude tomorrow with the Overseas Territories Business Event.
The JMC is the principle forum for reviewing and implementing the shared strategy for promoting the security and good governance of the Territories and their sustainable economic and social development.
Councillor Henry and Dax will also form the St Helena Delegation, along with the SHG UK Representative, Kedell Worboys, to attend the 12th OCT-EU Forum in Brussels from 5-12 December 2013.
Councillor Henry and Dax will return to the Island on 17 December 2013.
Two photos are attached to this release.
SHG
27 November 2013