The Royal Navy Type 23 Frigate HMS RICHMOND (photo attached) is due to visit St Helena between 29 and 30 August as part of her current operational deployment. She left her home port of Portsmouth on 5 August. During her 7 month deployment in the South Atlantic she will be promoting British interests and providing a continuous security presence in the region.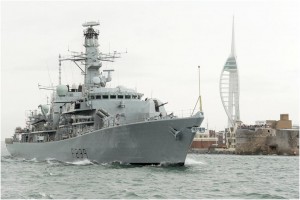 The Atlantic Patrol Task will see HMS Richmond undertake maritime security operations, including counter-narcotics and anti-piracy patrols, providing opportunities to work with a number of other navies to further strengthen ties and demonstrate the Royal Navy's commitment to the region.
Onboard HMS Richmond is St Helenian Leading Seaman Jamie Fowler. While the ship is in port Jamie's family, who he has not seen for 12 years, will be invited onboard to meet him.
A programme of activities for HMS Richmond's two-day visit is currently being developed.
SHG
20 August 2013