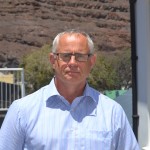 On Island for three weeks is Financial and Forensic Audit Trainer Llewelyn Williams.  Llewelyn will conduct a series of training sessions in HM Customs and Revenue in the area of process checking to ensure the local Tax Office staff develop the correct skills and principles to access and analyse information. 
Llewelyn will also conduct training on forensics as well as money laundering.  He commented:   
"Forensics means basically to look at something in detail and to search for something that isn't apparent to others.
"If you are looking at an individual's tax records for example, staff need to be keeping an eye out for anything in the books that might be indicative of money laundering."  
Based at the terminal building at the Wharf, Llewelyn will also be checking the current systems and sharing his experiences and knowledge of running a tax office in the UK. 
Llewelyn has over thirty years experience in the UK in her Majesty's Revenue and Customs (HMRC) with specialties in tax fraud investigating and consultancy. LLewelyn said:  
"In essence, my job is to make sure the right person pays the right tax at the right time." 
SHG
21 October 2013