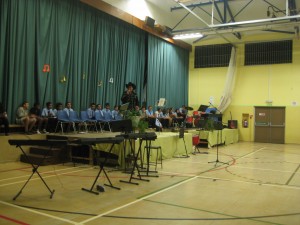 To celebrate the end of another school year, Prince Andrew School held its annual End of School Concert and Melodrama Evening on Friday 19 July 2013. Those who participated included the lunchtime and after school musical groups, the GCSE music group, the after school Melodrama Club and Made in St Helena (the School's rock band).
Head Girl Eira Stevens hosted the evening and introduced the acts. Also attending were, Cathy Hopkins, Flute and Clarinet tutor and Pastor Graeme Beckett, Trumpet tutor.
Although entrance was free, money was donated generously by the public to put towards the School's fund for music education. There was also a sale of CDs with the talents of the Schools very own vocals group.
Paul Starkie, Head Teacher of Prince Andrew School, opened the evening by welcoming members of the public and guests, including HE Governor Capes, accompanied by Mrs Capes.  Paul said that they were in for "a musical feast".
There was a challenge for most students, as those who were part of the GCSE Music group performed a solo for their coursework.
The Melodrama Club provided entertainment to the audience by performing "I Wish I Was Our Sammy" and excerpts from "Blood Brothers" – both by Willy Russell.
The evening was rounded off with a performance by Made in St Helena, with the group singing Emeli Sande's "Next to me".
Music teacher and director of the evening, Teeny Lucy commented:
"I am very pleased with the concert overall, especially the standard of the performances from the students. They've worked hard over the past year learning various instruments, plus choir and drama. They produced an enjoyable evening for all. With the money collected from purchasing of the vocals CD and the donations on the night, there is a total of over £300. being put towards the music education fund."
Picture attached
SHG
23 July 2013