On Friday 22 November Bank of St Helena Ltd (BOSH) launched its eighth sponsored Youth Games, which runs from 22 November to 18 December.  Organised by New Horizons Youth Leader, Nicky Stevens, supported by his team and volunteers, the Bank of St Helena Youth Games encourage young people in the community from the ages of 11-18 to develop and show their sporting skills, engage in competition, and interact with their peers.
The Bank of St Helena actively contributes to the social development of St Helena by funding such community activities.  Sponsorship by the Bank is used to purchase medals and arrange activities supporting the Games.  The opening Jamestown Swimming Pool event will be followed by Pool Table Singles held at New Horizons and Shooting at the Jamestown Rifle Club.
Nicky Stevens, at the opening of the Swimming Pool event, thanked the Games volunteers and his staff for creating a successful opening event, commenting that: "In the past, those who have excelled at events in the BOSH Youth Games have gone on to represent St Helena at International levels."    
Lyn Thomas, Chairperson of the BOSH Board of Directors, opened the Games and commented on the importance of promoting life skills, teamwork, and competition, highlighting that all competitors should approach the Games "feisty, friendly and fairly."
Supported by onlookers at the Pool, the Swimming Heats held on Friday 22 November saw the district of Jamestown winning the competition, with Longwood second, St Pauls third and Half Tree Hollow, fourth.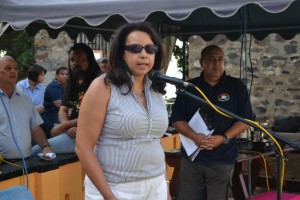 Mercia George, Marketing and Customs Manager of BOSH added:
"The Bank of St Helena is committed to the development of youth, culture and the community.  Sports are a big part of St Helena's culture and we try to maintain and encourage that as much as possible.  In all of the scheduled events, we will aim to support New Horizons as much as we can."
BOSH has previously funded the publication of a Marine Awareness Book by Pilling Primary School and most recently contributed funding for the School Spruce Project .  It also provided sponsorship for Island Games Gold Medallist, Simon Henry.
SHG
26 November 2013