As a Tourist 
St Helena's natural beauty and historic heritage are in turn stunning and dramatic, offering all visitors an extraordinary lifetime experience. In spite of its small size, the Island has a huge amount to offer in terms of outstanding scenery, pristine marine waters, sub-tropical conditions and warm and friendly people. For more information on St Helena, what it has to offer its visitors and how to get here, visit the official St Helena Tourism website at www.sthelenatourism.com We also encourage you to browse the pages of this website for key information about  visiting the Island.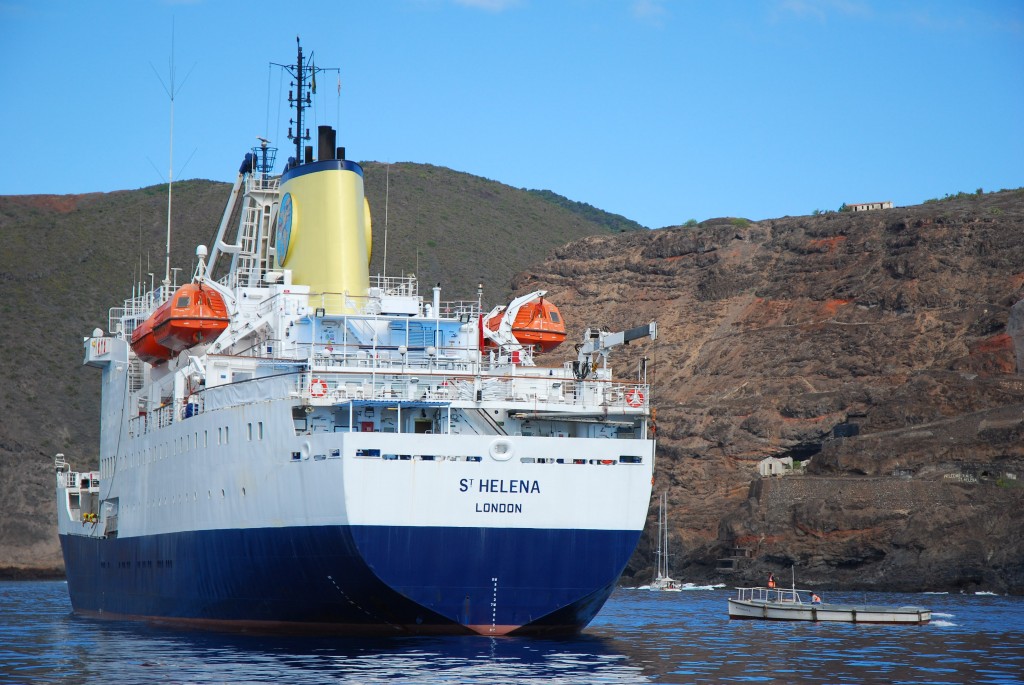 Travelling to St Helena 
The only regular access to and from St Helena is via the Royal Mail Ship (RMS) St Helena, one of only two ocean going vessels in the world still carrying the title of Royal Mail Ship.
The RMS as she is known to the Saints, is currently the Island's lifeline carrying passengers to and from the Island and carrying all goods and supplies to St Helena.
The RMS travels between St Helena, Ascension Island and Cape Town. For those wishing to visit St Helena the RMS website http://rms-st-helena.com provides a wealth of information on shipping schedules and fares, booking arrangements, tours and also connecting flights from the UK to Ascension Island. Alternatively, you can travel via Cape Town.
Another alternative is visiting St Helena by Cruise Ship. St Helena is ideally located as a midway port on cruises between Cape Town or Walvis Bay, the Falkland Islands and South America and the Caribbean.
Cruising on St Helena dates back to Union Castle days, and since then has remained small scale, however interest in cruise visits to St Helena is growing. Our cruise ship season starts from October and ends in April.
For more information please contact Solomons Shipping Office, St Helena at: shipping.manager@solomons.co.sh
Please see this Biosecurity St Helena – visitors for biosecurity information on what you can bring into the island.
Travelling by Yacht to St Helena
St Helena welcomes visiting yachts. There's a growing interest in yachts seeking safe havens in new and unspoiled destinations. St Helena is conveniently positioned for passing sea traffic as it sits in the middle of West Africa and South America. For more Information please visit the following link: http://sthelenatourism.com/getting-there/visiting-by-yacht.
Travelling on St Helena 
For visitors and residents wishing to utilitise the public transport system, Bus timetables – booklet effective 01.10.2016 is provided.
Working on St Helena 
St Helena is growing its economy and opening its doors to inward investors – as well as providing more job opportunities for Saints Overseas to return home to work.
Current job vacancies within St Helena Government can be found on the Vacancies page.
Enterprise St Helena (ESH) http://www.investinsthelena.com is the lead body responsible for promoting and enabling private sector development on the Island and if you are interested in self-employment or other job and investment opportunities you should contact them, the Business Start-up Coordinator on cara.joshua@helenta.co.sh
For those persons not of St Helenian descent but wishing to work on St Helena for a short time, you are allowed to stay here and work for up to six months.  More information on Entry Permits, Work Permits, Points Based Assessment and Permission to work can be found on the Immigration page.
Investors and entrepreneurs who want to make a substantial financial investment in St Helena can apply to enter or stay in St Helena without needing a job offer. For more information please visit http://www.investinsthelena.com or contact Enterprise St Helena on info:esh.co.sh.
Maps
FAQS
What is the currency on St Helena?
St Helena has its own currency, equivalent to the British Pound.
What is the time zone on St Helena?
St Helena is always at GMT.  The UK adopts British Summer Time which gives an hour difference from April to September between the two countries.
What is the climate on St Helena?
St Helena boasts a sub-tropical climate kept calm and equable by the South East Trade Winds.
The hottest months are between January and March and the coldest months between June and September. For much of the year the temperature remains between 20-27 °C. The Rainy Season is usually from late March to early May and then again from July to September.
How do I travel around the Island?
St Helena has a public bus system and taxis are also available. Car hire from private sector organisations are also available. please contact the tourist office on enquires@tourism.co.sh for an updated list with contact information.
Is Accommodation available?
A range if accommodation is available, from private self-catering, to guest houses and hotels. Visit the following link http://sthelenatourism.com/wheretostay for more information.
What facilities are available on the Island?
All the normal amenities are available. The Island offers Cafes, Restaurants, Shops, Bars, Community Centres, Public Swimming Pool, the Museum, and more.
St Helena's environment is truly remarkable, from dramatic cliff tops to a sub-tropical interior – All of it surrounded by pristine seas. St Helena offers world class opportunities for activities such as walking/hiking, ornithology, marine trips and fishing. Incredibly clear skies also attract astronomers.