Horse Point Landfill Site (HPLS) is open to the public 24 hours a day – 7 days a week, including Public Holidays (it is advisable not to use the site during the hours of darkness). For your safety please comply with signage and any instructions given by Staff on site.
Domestic and Commercial waste collections are land filled in a netted cell, this is designed to reduce the opportunity for pigeons to feed on kitchen waste. Pigeons can be a hazard to low flying aircraft, so composting kitchen waste contributes towards minimizing 'Bird Strike' risk, whilst reducing the volume of   organic waste to landfill.
HPLS includes two geo-lined and leachate proofed hazardous waste cells, which are fenced and gated, for the safe disposal of certain hazardous wastes. Wastes disposed within these cells include; oil from Power Station diesel generators (decanted into 22000 litre tank-tainers located in the cell), motor and cooking oil (in 1000 litre containers), paint, agricultural chemicals, vehicle and domestic batteries.
Asbestos waste, which is also hazardous, should be delivered to HPLS by prior appointment with the Landfill Manager. This waste, which should be double wrapped and labeled as hazardous prior to delivery, is deep buried in the asbestos waste cell.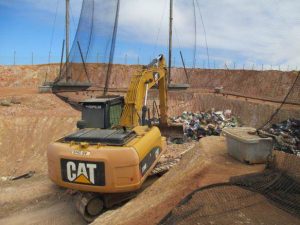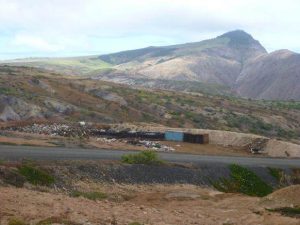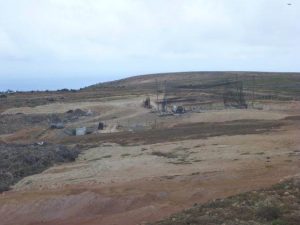 Recycling
The Public Recycling Facility at Horse Point Landfill Site provides customers with an opportunity to deposit waste in person. The facility enables the segregation of recyclable waste and some hazardous waste (motor and cooking oil, paint, batteries, waste electrical equipment etc.) for appropriate disposal. The separated waste within the facility is available for the public to retrieve for reuse or spare parts and includes;
Glass (customers can also dispose of glass in red wheelie or Olympic street litter bins)

Cans (customers can also dispose of cans in blue wheelie bins)
Scrap Metal
Wood
Motor and Cooking Oil
Paint
Tyres
Vehicle and Domestic Batteries
White Goods and Small Electrical Appliances
Textiles and Clothing
Furniture
Cardboard and Paper
Fluorescent Light Bulbs
Glass Recycling
In 2016, WMS, working in collaboration with CNSKB Trading, commenced glass waste recycling operations at Horse Point Landfill Site (HPLS). CNSKB Trading voluntarily undertakes glass waste recycling. This has proven to be successful, and environmentally beneficial. The reduction of glass waste volume to landfill has been evident across waste composition analysis calculations – the 'waste wheel' – with 18.84% in 2016, down to 9.17% in 2017.
Members of the public who wish to dispose of larger quantities of glass waste for recycling or would like more information are invited to contact CNSKB Trading – Mr Chris Bargo on telephone number 23163, after 5pm.  
Reducing and reusing more, to reduce waste, saves you money and helps us all by making the landfill site last longer.