St Helena Government's Mental Health Team Lead, Ian Rummery, and UK Health Security Agency (UKHSA) Public Health Consultant, Sunita Sturup-Toft, recently visited Montserrat and provided mental health strategy and interventions support to the territory's prison.
Montserrat is a small island located in the Caribbean and, like St Helena, is a UK Overseas Territory.
The UKHSA received a request from the Governor of Montserrat to explore what more could be done to address the increasing mental health challenges within the island's prison. Montserrat has a similar sized prison to St Helena and faces similar challenges in managing its prison population. Ian has been involved in developing a health care service for HM Prison Jamestown, and so agreed to support the request in conjunction with UKHSA.
Ian and Sunita arrived in Montserrat on 27 September 2023 and departed on 11 October 2023. During their time on Montserrat Ian and Sunita met with the Montserrat mental health team, other health professionals, as well as the police and prison personnel.
Ian commented:
"This was an amazing opportunity to meet fellow professionals in a similar sized Overseas Territory and discuss ways in which we care for people who are in prison and experiencing mental health problems. My colleagues in Montserrat were so welcoming and we have had very productive discussions about the challenges they face."
"On St Helena it is easy to lose perspective as we work in isolation. To have the opportunity to visit another Overseas Territory and hear both their successes and challenges has been professionally and personally very rewarding. I am very grateful to UKHSA for giving me this opportunity."
Notes to editor:
Ian's visit to Montserrat was funded by the UKHSA as part of the OT Conflict, Stability and Security Fund (CSSF) Governance Programme.
Photo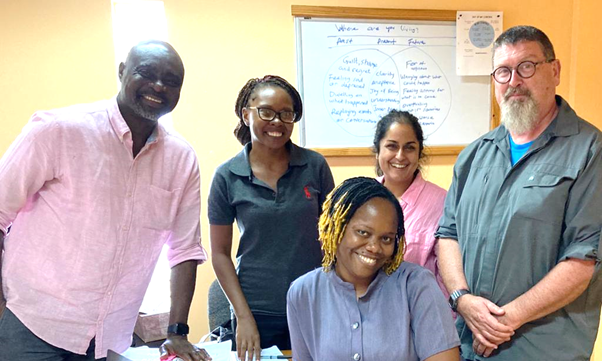 From left to right standing: Adegboyega Bamisile (Clinical Psychologist – Montserrat); Donamie Mathieu (Mental Health Nurse Practitioner- Montserrat), Sunita Sturup-Toft (UKHSA Consultant); Ian Rummery (Mental Health Team Lead – St Helena) and sitting Donique Layne (Community Psychiatric Nurse – Montserrat).
#StHelena #Montserrat #OverseasTerritory #MentalHealth
SHG
23 October 2023