Four local teachers – Pilling Primary Head Teacher, Elaine Benjamin, Harford Primary Head Teacher, Carlean Crowie, Harford Primary Deputy Head Teacher, Stacey Benjamin, and Head of Inclusion, Lolly Young – have recently achieved the Cambridge International Certificate in Educational Leadership.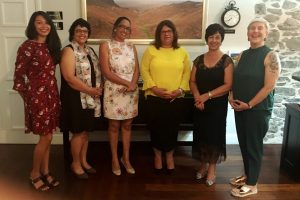 The Course Leader, Julia Drozdowskij, developed course materials that were firmly rooted in the St Helena context, but which drew on international educational research. The course was approved by Cambridge University and the first cohort of students were accepted onto the course in January 2018.
The candidates had to submit portfolios of work which demonstrated 'Evidence of Learning', 'Evidence of Practice' and 'Evidence of Reflection'. One candidate was singled out for particular praise from the Cambridge University Examiner stating they had rarely seen such a strong portfolio exam entry.
Julia said:
"I am extremely proud of the four candidates who have achieved such a stunning success. The fact that all four candidates successfully completed such an intellectually demanding course within a year is truly remarkable and that three out of the four candidates achieved a 'Distinction' is phenomenal, and in my opinion, unprecedented."
The Cambridge International Certificate & Diploma in Educational Leadership is a Professional Development Qualification run by the prestigious University of Cambridge in the United Kingdom. The qualification is internationally recognised as a mark of excellence for the individual Educational Leader and aims to improve professional profiles and career development.
The end goal of the course is to enrich, deepen and strengthen leadership learning. The focus is not only on developing the knowledge, skills, and understanding of leadership, but also on improving the candidate's own leadership practices.
Julia added:
"This achievement, specifically the outstanding results, is a testament to the calibre of the course and the calibre of the candidates. I truly believe that this bodes well for the future of Education on St Helena and in turn, for the Island itself."
A photo of the successful awardees with Course Leader, Julia, and Acting Director of Education & Employment, Wendy Benjamin, is attached to this release.
#StHelena #Education #CambridgeUniversity #CertificateInEducationalLeadership #SaintSuccess
https://www.facebook.com/StHelenaGovt/
https://twitter.com/StHelenaGovt
SHG
29 January 2019