Investment in land ownership and development plays a key part in realising the vision for the economic and social development of St Helena, and SHG, as the major landowner on St Helena, recognises that this must be balanced in a way that supports the Island's targets for sustainable growth. The responsibility for Crown Land and Buildings lies with the Environment & Natural Resources Committee (ENRC) and Executive Council. All applications to acquire Crown land and buildings are managed by the Environment & Natural Resources Directorate (ENRD). The process also includes collaboration with stakeholders including other SHG directorates, SURE South Atlantic Ltd, Connect Saint Helena and the St Helena National Trust.St Helena Government's (SHG) Land & Buildings Disposal Policy 2016 sets out the principles and procedures by which SHG will let and dispose of Crown land and buildings.
Persons wishing to apply for commercial or residential purchase/lease/licence of government land, or buildings should do so via the correct application process (see below).  Applications will be determined by the Head of Property in collaboration with the Financial Secretary, or the Estates Strategy Panel, or  Executive Council, depending on the size of the land and/or the historic importance of the building.
In the event that more than one person has identified or is interested in the same  piece of land then applications will be treated on a first come, first served basis. Alternatively, land advertised by SHG will follow a tender process. The tender process will involve an applicant submitting their bid for the lease or purchase of the land with reasons as to how they are justifying their offer.
Application forms are available from the ENRD Office at Essex House.
Application forms will ask for the name, address and contact details of the applicant along with the address or description of the land they are looking to acquire. If a site map can be attached to the application that would also be an advantage. ENRD property staff can help applicants identify the full or part of land/property they wish to purchase, lease or licence. The site map should be signed by the applicant and an approved officer (ENRD's Head of Property, Crown Estates Officer and Land Registry Officer are the approved officers to take forward applications) to confirm this is the land/property of interest.
The form also asks applicants to select whether they are an existing tenant looking to purchase the land/building, if they are renewing a lease or licence, if they are applying for a new lease or looking to make a new purchase. When submitting an application, proof of identity is also needed. This can be a passport, driving licence with photo and address, utility bill or bank statement.
The application is then signed by an approved officer and the applicant and a copy is made of both the application form and site map as a receipt to show the applicant their application has been received and is being dealt with. In the event that one of the officers are conflicted, the application will be completed by another approved officer where practically possible. If this is not possible the conflicted officer will complete a conflict of interest form and the application will be brought to the attention of the other approved officers to monitor and process the application.  The process of each step is listed in the table below:
Process once an application has been received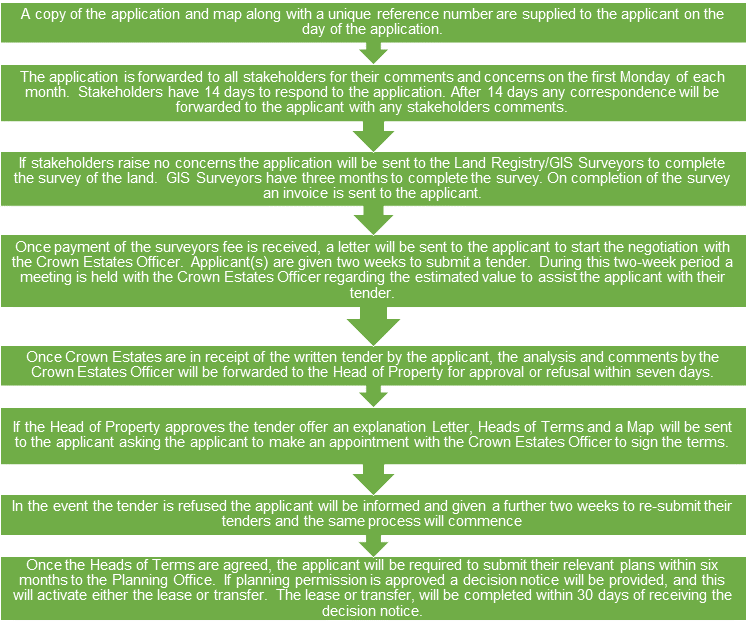 This application process under the SHG Land & Buildings Disposal Policy 2016 ensures:
A transparent and fair process for the disposal & letting of Crown Land and buildings to support sustainable economic development
Sites are available for affordable residential development, whilst protecting the Island's natural environment
Crown land and buildings are available for private commercial development in a strategic manner consistent with sustainable use of St Helena's natural resources
The productive use of agricultural land for sustainable food production and the food security of the Island is protected and promoted
Sustainable development of the Island is supported by protecting the local environment, meeting the reasonable needs of the community and supporting economic development with positive social and environmental impact
 #StHelena #ENRD #LandDisposal #AllTogetherGreener #AllTogetherWealthier
https://www.facebook.com/StHelenaGovt/
https://twitter.com/StHelenaGovt
SHG
26 February 2019