Royal Lifesaving Society Trainer/Assessor for Lifesaving & Lifeguarding, Chris Durnford, is currently visiting St Helena with his wife . Whilst here, Chris has held free Basic First Aid, Cardio Pulmonary Resuscitation (CPR) and Automated External Defibrillator (AED) training with staff from different SHG departments.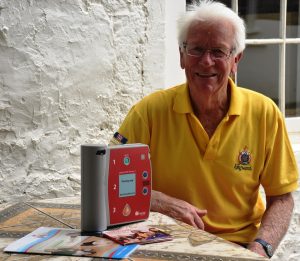 This is Chris' eighth visit to the Island and he has offered training on each occasion, mostly with the lifeguards at the Jamestown Swimming Pool. This time around, Chris was again happy to offer his expertise to staff within SHG.
Chris held sessions with staff from the Environmental Management Division, HM Prison, Customs & Excise, Sea Rescue, Safeguarding, and the Agriculture & Natural Resources Division's Peaks & Forestry teams.
Chris said:
"It's been a delight to be able to do these training sessions, it's the love of my life in respect of outside activities.
"Some of these various divisions in SHG work in remote places and it's therefore very useful for them to have this information and knowledge just in case there is an incident."
The training has benefitted all staff participants, especially those which have Basic First Aid, CPR and AED as an essential requirement for their job roles.
Chris has 44 years experience in his field since becoming a Lifesaving Teacher in 1975. He is a member of the Royal Lifesaving Society UK and is a qualified Lifesaving Instructor Tutor and Water Smart Instructor. Chris is also qualified in  Open Water Endorsement, NRASTC/ATSPRA (National Rescue Award for Swimming Teachers & Coaches/Aquatic Therapy Shallow Pool Rescue Award), Lifesaving, Anaphylaxis, NPLQ 9th Gen (National Pool Lifeguard), ER Pool, Open Water Lifeguard and AED.
SHG thanks Chris for his generosity in taking the time out of his holiday to deliver these courses.
#StHelena #BasicFirstAid #CPR #AED #Training #AltogetherSafer
https://www.facebook.com/StHelenaGovt/
https://twitter.com/StHelenaGovt
SHG
28 February 2019