The Education & Employment Directorate officially launched the St Helena Research Institute (SHRI) at dual events hosted on St Helena and in London on Tuesday, 12 November 2019.
Ann's Place, one of the Island's cultural gems which has already been the platform for the Island's first two International Environmental Conferences, provided a fitting venue for the St Helena based launch. In the UK invited guests were welcomed by SHG UK Representative Kedell Worboys, MBE, at Alliance House in London.
Despite being thousands of miles apart the two events were co-ordinated to deliver a similar programme of speeches, to reach out and spread the message that we are here and open for business and looking forward to working with all parties to support, develop, fund and expand the research activities and opportunities on St Helena.
On St Helena, His Excellency Governor Dr Philip Rushbrook gave the opening address to around 80 guests. Governor Rushbrook said:
"This new Research Institute is a starting point for researchers on the Island, and those who come to our shores, to base their operations and be able to begin their important work as quickly and smoothly as possible. I have high expectations for the Institute to become a catalyst that encourages Saints to embark upon research of their own, to encourage researchers from around the world to see St Helena as a place of choice to conduct their work, and to be a gathering point for the many scientific studies undertaken here in past times. I hope too, that St Helena is now able to work in collaboration and share information with researchers around the globe."
Director of Education & Employment, Wendy Benjamin, then described some of the background to the establishment of the SHRI (A full copy of Wendy's speech is attached to this release).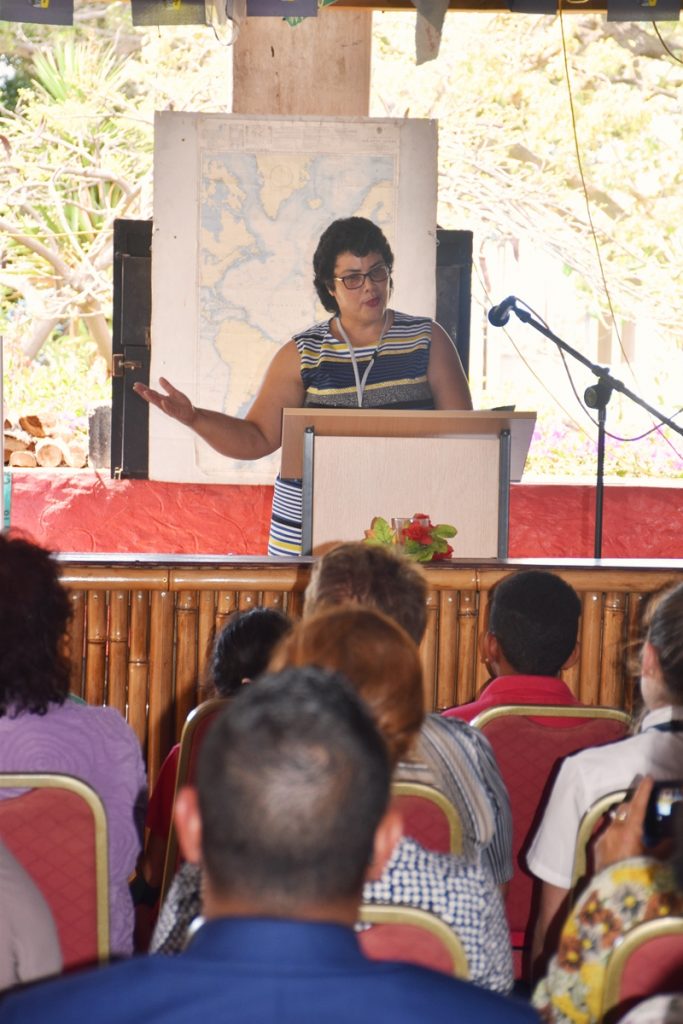 In the UK, the SHRI was represented by Deputy Director of SAERI and a member of the SHRI Steering Group, Tara Pelembe, Chief Executive for Economic Development and a member of the Research Council, Dr Dawn Cranswick, and former Steering Group Member, Kirsty Joshua, now residing in the UK and working with UK Research and Innovation (UKRI) InnovateUK.
45 guests attended the UK Launch and the Rt Honourable Andrew Mitchell gave the opening speech. He said:
"St Helena is one of the most extraordinary, fascinating and rewarding places to visit in the world. With the Island's abundance of untouched resources and unique features it provides extraordinary opportunities for all visitors whatever their interests. The time is right for St Helena to reach its full potential as a prized destination."
Summing up the event, Kedell added:
"A good cross section of people attended the launch in the UK, there was a positive vibe with people feeling excited about the possibility of working with the SHRI. The general comment was that the SHRI was a great initiative."
Speeches by Tara Pelembe in the UK and Dr Rebecca Cairns-Wicks on-Island were co-ordinated to share the same presentation to celebrate the long history of science and Saint science on St Helena and academic achievement, past and present. And also, St Helena's long history of international research collaborations, the growth of contemporary research and the growth of new collaborations.
Dr Rebecca Cairns-Wicks concluded:
"A big thank you to all the individuals and organisations who supported and worked tirelessly to establish the SHRI. We look forward to your continued support for SHRI and the UKOT research network as we move forward."
The launch of the new Research Institute has given us an opportunity to celebrate achievements past and present and to encourage future enquiry. St Helena offers a wealth of potential research opportunities many needed to help us respond to island challenges: from natural capital and climate change, to health, history and culture, to tourism, the fibre optic cable, destination marketing, exports, import substitution and investment.
Copies of both Governor Dr Philip Rushbrook's, and Education Director, Wendy Benjamin's, speeches are attached to this release.
#StHelena #StHelenaResearchInstitute #SHRI
https://www.facebook.com/StHelenaGovt/
SHG
19 November 2019