St Helena Government's Harbour Master, Steve Kirk,  Emergency Planning & Sea Rescue Manager, Simon Wade, and Operational & Civil Contingencies Manager, Ian Johnson, along with the Foreign & Commonwealth Office' CSSF (Conflict, Stability & Security Fund) Projects lead, Sam Cherrett,  are currently representing St Helena at the Red Ensign Group Conference in Montserrat.
The delegates join 68 representatives from other UK Overseas Territories in a four-day programme of presentations, workshops, and discussions covering several aspects of Maritime Safety and Legislation. Topics include Ports, Coastal State and Registration of Vessels and the crucial role it plays in enabling Coastal States to meet mandatory international obligations by 2020 which St Helena is legally bound  i.e. SOLAS (Safety of Life at Sea), MARPOL (Marine Pollution), UNCLOS (United Nations Convention of the Laws of the Seas).
The UK and Overseas Territories will be audited to assess compliance of the obligations.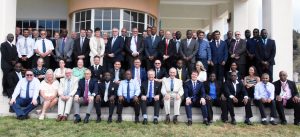 Attendance at the Conference was funded under the Maritime Obligations work as part of the Justice, Security and Governance programme of the Foreign & Commonwealth Office' Conflict, Stability & Security Fund.
Further information will be provided when the delegates return to St Helena.
#StHelena #RedEnsignGroup #Altogether Safer #CSSF
https://www.facebook.com/StHelenaGovt/
https://twitter.com/StHelenaGovt
SHG
4 April 2019