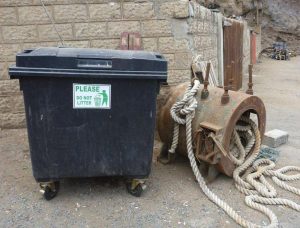 Waste Management Services (WMS) continued their Landscape Bulky Waste Programme during June and July 2018, remediating and improving the landscape of bulky waste in the Jamestown area. This included the removal of three end-of-life vehicles (with a further two planned for when the weather is more favourable), bulky waste from near West Rocks and several vehicle batteries, old drums and other visible bulky waste on land adjacent to Porteous House.
Waste Management Services Supervisor, Anthony Henry, said:
"Continuation of our Landscape Bulky Waste Programme demonstrates our commitment to our mission statement, 'working in partnership with customers for a cleaner and greener St Helena'. I would like to thank those members of the public that engaged with the WMS team in identifying bulky waste so we could visibly improve the landscape in the Jamestown area."
The public is reminded that Horse Point Landfill Site remains open 24/7 for the disposal of bulky waste. Please consider recycling as much waste as possible in the Public Recycling Facility prior to any disposal into the bulky waste cell.
#StHelena #WMS #BulkyWaste #Jamestown
https://www.facebook.com/StHelenaGovt/
https://twitter.com/StHelenaGovt
SHG
26 July 2018