The St Helena Community College (SHCC) has today, Thursday 12 July 2018, opened its doors to the public for the first ever Learning Opportunities Fair.
The aim of the Learning Opportunities Fair is to educate and encourage people on St Helena to take advantage of the wide array of training courses on offer at the SHCC to further develop their current skills and qualifications.
The fair was opened with a welcome speech by the Director of Education, Shirley Wahler. Shirley gave an introduction to the fair and spoke in brief about the many opportunities on offer for training and development. She spoke about the successes of the SHCC to date and also how the available courses will help shape the future of the Island, speaking specifically about the 'Get Connected' range of courses, which is hoped will educate all in readiness for the arrival of the submarine cable. Courses will range from the very basic to the highest levels of Information Technology.
Chairperson of the Education Committee, Councillor Christine Scipio-O'Dean, then spoke about the aim to develop the people of St Helena, preparing them for the changing economy. She said:
"I would encourage every person to challenge themselves and make good use of the educational facilities that are available and to obtain the highest qualifications that will allow them to follow their chosen career."
Her Excellency, Governor Lisa Honan, gave an inspirational speech, where she spoke about her journey of knowledge, from being a Clerk to becoming Governor of St Helena, and how this was all through taking advantage of learning opportunities. Governor Lisa said:
"Learning has been an integral part of what I have done and who I am, not just because I have expanded my knowledge, but because it has led me down paths that I would never have thought of. Quite by accident it has unlocked interests for me and it has expanded my horizons. It has taken me from being at the bottom of an organisation to becoming Governor of St Helena, and who knows where next."
The fair itself consisted of many stalls and information boards pertaining to the relevant courses and training opportunities. SHCC tutors were also on hand to answer any questions relating to specific courses. Information was available on the Apprenticeship Scheme, the 'Get Connected' range of courses, the Open University, and Skills for Success, amongst others. The new SHCC website was also launched today and visitors were able to be some of the first to view and explore the site.
Live presentations were given in the SHCC Video Conference Room including 'An Introduction to ILX's E-Learning Portal', 'ILM Leadership & Management Programmes', and 'An Introduction to Open University'.
The Learning Opportunities Fair will be open until 6pm and everyone is encouraged to attend. It is hoped that visitors will recognise a course that appeals to them and be inspired to undertake the training for their personal and professional development.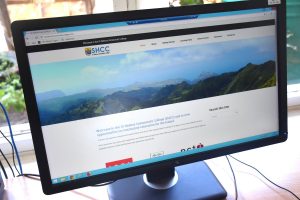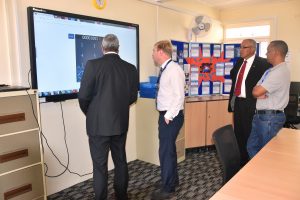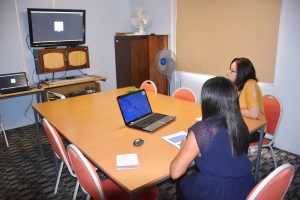 #StHelena #SHCC #LearningOpportunitiesFair #AGatewayToOpportunity #OpportunitiesForAll #SomethingForEveryone
https://twitter.com/StHelenaGovt
https://www.facebook.com/StHelenaGovt/
SHG
12 July 2018