A commemorative stamp issue entitled 'The Royal Wedding: HRH Prince Henry of Wales & Ms Meghan Markle' will be released in June 2018.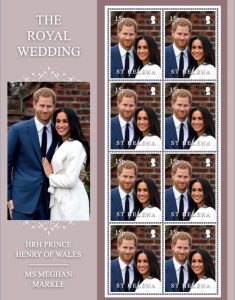 The stamp issue depicts beautiful images of the happy couple in the lead up to their big day. The issue will be postmarked for 19 May 2018, and consists of the following:
Four valued stamps (15p, 25p, 60p, £1.00)
Souvenir Sheet (£1.50)
First Day Cover with valued stamps (£3.50)
First Day Cover with Souvenir Sheet (£3.50)
An example of one of the items in the collection is attached to this release.
Persons wishing to make an order can make enquiries with the Post & Customer Services Centre, Jamestown, St Helena Island on tel: (+290) 22008 or via e-mail: Naomi.Young@sainthelena.gov.sh
https://www.facebook.com/StHelenaGovt/
https://twitter.com/StHelenaGovt
#StHelena #RoyalWedding #StampIssue
SHG
24 May 2018