Visiting Oral Surgeon, Joanna Rees, arrived at St Helena on Saturday, 10 February 2018. Joanna, who last visited the Island in February 2017, is here for two weeks providing an Oral Surgery Service to Island residents.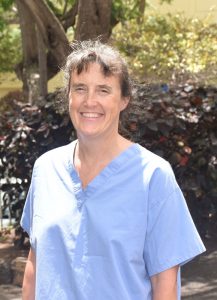 As an Oral Surgeon, Joanna will be undertaking dental surgical procedures such as removing wisdom teeth and other impacted teeth and offering advice on other complaints relating to the mouth and jaw.
Joanna commented:
"It's wonderful to be coming back to the Island and I am particularly looking forward to sharing my experiences with my husband Martin, who is travelling with me this year."
 Director of Health, Dr Akeem Ali, added:
"This is a repeat visit by Joanna to the Island. She will be working in close collaboration with the local Dental Officers to offer specialist surgical care for patients already identified by them.
 "Oral health and hygiene is a critical aspect of wellbeing and our local Dental Service continues to expand available services such as this as well as promote better oral health with children and adults alike. We can all do our bit to ensure that good oral health persists on the Island by avoiding sugary drinks, brushing teeth twice-daily as advised by the dentist and visiting the dentist for regular check-ups even when there is no pain or discomfort. This would help reduce the need for acute and emergency care in the future."
 Joanna will depart the Island on Saturday, 24 February 2018.
#StHelena # OralSurgeryService
https://www.facebook.com/StHelenaGovt/
https://twitter.com/StHelenaGovt
 SHG
12 February 2018